During the Johns Hopkins Baja team's visit to Barclay Elementary/Middle School on Thursday afternoon, the students there had one important question: "Do we get to drive the car?"
Brendan Szuwalski, Baja team captain and fourth-year mechanical engineering major, had to deliver disappointing news.
"You have to have a license to drive the Baja car," he explained.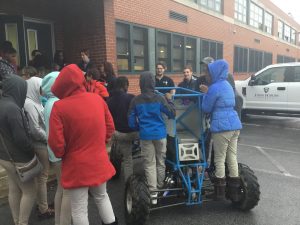 Luckily, this news didn't curb the students' interest. After listening to a short presentation and asking several thought-provoking questions ("Why doesn't the vehicle have doors?"), students braved the rain to see the car in the school's parking lot. Although they couldn't take it for a spin, students were excited to inspect the car and take pictures of themselves sitting in the driver's seat.
"I liked that I could turn the wheel and reach the pedals," said Zhanae, an 11-year-old 6th grader, as she climbed out of the car. "Usually I don't like to build things, but I'd really like to build a car like this!"
The visit was part of National Engineers Week (which ran from Feb. 16 – Feb 23), Johns Hopkins University's annual celebration of engineers' contributions to society. Four members of the Baja team traveled to Barclay Elementary/Middle School to show this year's car to 17 students, and explain engineering principles that allowed them to build it. Team members are currently preparing for their first competition of the 2018 season in April.
"The car is fun and gets kids excited about engineering in a way that math class just doesn't," said Sarah Rossman, a third-year mechanical engineering major marking her third year as a Baja member. "If they're able to see and play with something, it clicks for them that this is something they can build, too."