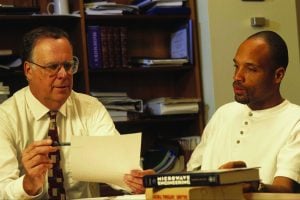 Charles "Roger" Westgate, the former William B. Kouwenhoven Professor of Electrical Engineering at Johns Hopkins Engineering, played a multitude of roles at the school, including professor, mentor, scholar, department chair, associate dean for academic affairs, director of the part-time engineering programs, and interim dean. He died on October 22, 2022.
Westgate joined the School of Engineering in 1966 and taught there until 2001, when he was appointed dean of the Watson School of Engineering and Applied Science at SUNY Binghamton University in New York. But his ties with Johns Hopkins remained constant over the years, as has his impact on the school, from the many students he taught and mentored to the research advances he made in high frequency circuitry and devices and his role in helping shape the Engineering for Professionals (EP) and other academic programs.
Recognizing that students' professional success would require more than discipline-specific knowledge, Westgate launched the Whiting School's minor in entrepreneurship in 1996, when he was vice dean for academic affairs. The program was designed to prepare students to move quickly into leadership positions in industry and the public sector and filled a real need in undergraduate education on the Homewood campus. The minor he created has since evolved into WSE's Center for Leadership Education, an academic center that today offers four academic minors and a master's program and supports students from across the university.
Westgate was also the first director of the school's part-time engineering programs and, in 2001, he helped launch the Whiting School's first online classes, comprising five web-based credit courses. At that time, he explained the reasoning behind these new offerings: "Many are students who cannot attend traditional classes because of conflicts with their work or family lives. The implementation of the online program greatly enhances our ability to leverage our reputation as a provider of top-quality education and allows us to address the needs of lifelong learners regardless of their location." Today, through its EP programs, WSE remains a national leader in online engineering graduate education, in terms of both its student enrollments and the breadth of master's degrees offered.
His impact continues to make a difference through the Charles R. Westgate Scholarship in Engineering, established through a gift from Kwok Li '79, a former mentee and longtime friend of Westgate's. The scholarship, which covers full tuition, is awarded to first-year students and is renewable each year. The Westgate scholars program has enabled the school to attract the brightest, most driven students and provide them with access to a robust education at Johns Hopkins, regardless of their financial means. Westgate's steadfast commitment to learning and legacy-building is best exemplified in his own words, "When I am gone, make sure to take care of the next generation."