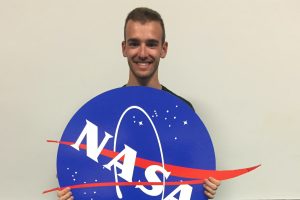 Why did you choose Johns Hopkins for graduate school?
When looking for graduate school after completing my BS in Mechanical Engineering from Johns Hopkins, I was looking for a challenging degree program in which I could hone my skills in fluid mechanics and rocket aerospace-related topics, my primary interest. I really valued the small program which enables plenty of interaction with faculty, as well as the rigor of the program. The accessibility of the Applied Physics Laboratory's Space Systems Engineering courses also provided a great opportunity to interact with space industry professionals and learn best practices with respect to the development of complex space programs.
What is the highlight of your research?
The research I have been involved with regards the stability of hypersonic boundary layer flows. This is pertinent to understanding the fluid mechanics related to hypersonic flight and helps inform the development of hypersonic vehicles critical to defending our country from new threats.
What are your hobbies?
The majority of my free time this year has been invested into the Hopkins Rocketry Team, of which I have served as president during my graduate program. While on the team, I've developed and tested a hybrid rocket motor and the team will be flying the system next year! It's been a wonderful opportunity to apply and develop my skills to a challenging project. Aside from rocketry, I enjoy using the school's pianos to practice and play for fun.
What do you plan to do with your degree?
After I graduate, I will be moving to Los Angeles to work for ABL Space Systems, a small satellite launch vehicle startup. I'll be working on a small team developing liquid rocket motors for our first launch vehicle, the RS1. It's extremely exciting to pursue my dream of working on rocket engines in the New Space industry and in a startup environment. I actually realized my love for startups during my freshman and sophomore years at Hopkins while working at Fusiform (now FactoryFour), a startup founded by Hopkins students.
What's your favorite song?
One of my favorite songs that carried me and some of my fellow graduate students through this year's ups and downs was "Defying Gravity" from the Wicked soundtrack! Also, an apt title for my future career.