Being accepted to the Whiting School of Engineering's PhD program in chemical and biomolecular engineering was Chun-Chiao Yang's first challenge. The second? Moving from San Francisco to Baltimore. So he hopped on his bicycle—a 2015 Giant Defy 3 road bike—to make what he called "The Grand Commute."
Yang, who joins Hopkins after three years as a research scientist at a California biotech company, spent 69 days pedaling the roughly 4,040 miles (with detours) from California to Maryland. He traveled alone but was shadowed part of the way by a rider from Canada and met another rider going the opposite direction in Illinois. On the way, Yang documented his trip on Instagram.
"It is the longest commute to school I have ever had so far," he said.
Yang was not exactly a rookie, having toured much of the West Coast and his homeland of Taiwan by bicycle. But this was not the average cycling adventure. Biking along everything from highways to country back roads and following well-worn routes recommended by the cycling community, he bypassed most major cities, exploring the lesser-known towns and regions that many Americans never get to see.
"It's crazy crossing state lines, how much the scenery changes," he said. "(The trip) is slow enough that you can see how it changes over a couple of days."
The first leg of Yang's journey was a comparatively short jaunt from his home in San Francisco to UC Davis, where he had earned a bachelor's degree in biochemical engineering. From there he pedaled into the vast desert of Nevada, with its dynamic elevation changes and sparse ghost towns, via the alpine environs of Lake Tahoe, where California ends.
"I have driven to Lake Tahoe several times, but it is not until I rod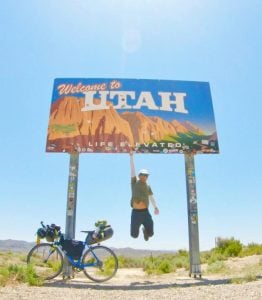 e it that I realized what 8,500-feet elevation actually means," he wrote. "No matter what nasty things you call the slope in front of you, it is not going to lower an inch for you."
In Middlegate, Nevada (population: 17), he wrote: "When you roll into these little towns, it feels like there is no barrier between you and other people. I somehow got hit hard by the charm of these towns. From the outside, it doesn't seem like there is much, but it brings out the most from the inside of you."
Utah proved formidable with its continued changes in elevation—only this time with the added component of chasms formed over millennia.
"Little did I know that the rocky state would first lure me deep into it with breathtaking scenery and then leave me to figure myself out in the canyons of misery," he wrote. Winding through the 125-mile path toward Colorado, Yang said the desert heat made his "thoughts go sideways."
Kansas provided not only the longest temporary stay at 11 days but tiny Ness City (population: 1,300) showcased the hospitality of people Yang met along his way. The town had a church that welcomed overnight stays by cyclists, but Yang found it closed. A nearby resident saved the day—or night, as it were.
"I saw someone watering their plants across from the church, so I went and talked to them," he recounted. "They offered to let me stay at another, unoccupied property they had across town."
Yang went around Kansas City and St. Louis, respectively, upon entering and leaving Missouri, but did find his way to the Ozark National Scenic Riverways, where he took time out for a canoe trip.
"As I rolled out quietly on the calm water, the river slowly woke up in a thin layer of silk-like fog," he wrote of the waterway, which he named as his favorite stop on the trip. "Nature was in her most beautiful outfit. I was in awe."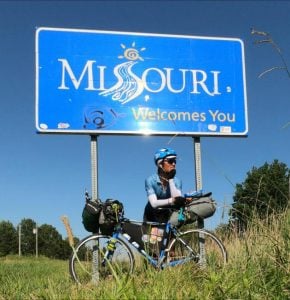 Yang set aside a few extra days to explore Kentucky's famous Bourbon Trail, visiting several distilleries and tucking several bottles of their products into his frame and saddle bags. With only Virginia and the Shenandoah National Park left to pass through, Yang admitted to becoming a bit wistful as he approached the journey's end.
"Through the whole state of Kentucky, I am gradually processing the imminent end of the trip," he wrote. "It is hard to imagine the life when I am not cycling, the life in which you will not be as free. I simply don't want this to end."
Riding the last 200 miles to Baltimore, the unexpected happened: His tires slipped, and he went down.
Unable to manage the repair himself, Yang checked into a nearby hotel. In the morning, a local friend gave him and his damaged Giant a lift to a bike shop.
"[They] fixed it, and I just rode casually into Baltimore," he said, arriving Aug. 20.
On Instagram, he summed up the experience: "I was happy to make it to the end, but was sad that a life that once felt so liberating and exhilarating had just ended… thought about every state that I have gone through, and realized the journey has far exceeded the destination."
When he's not researching metabolic engineering using synthetic biology tools as part of his doctoral studies, Yang plans to continue cycling in the Baltimore area, though the summer humidity has been a formidable adversary.
"I've been to hotter places on my trip, but this feels worse," he said. "The climate is similar to Taiwan."