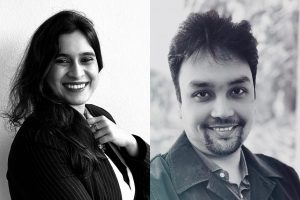 Utkarsh Singh
DronaMaps is the brainchild of Utkarsh Singh, a Forbes 30 Under 30 awardee. He studied computer science at Johns Hopkins University. It was at Johns Hopkins that he started exploring technologies which 'generate' massive datasets. The cross-industry problem solving capabilities of rapid 3D datasets created with drones fit his interests perfectly, and he subsequently founded DronaMaps. As comfortable behind the screen as he is leading the team in drone operations on the ground, Utkarsh is the creator of the company's entire technical stack and brings valuable experience in 3D image reconstruction – leading projects for drone based mapping of more than 100 villages and 10 urban areas across India. He serves on the National Committee for Civil Aviation under the Government of India and has pioneered the integration of drone-based maps with existing enterprise giants like ESRI and SAP.
Ayushi Mishra
Ayushi Mishra, a Forbes 30 Under 30 awardee, is a biomedical engineer and holds an MS in Engineering Management from Johns Hopkins University. She started her first venture, Marigold Health, while still in graduate school. It is a digital health platform with Artificial Intelligence to scale peer support and therapy. Marigold Health is currently funded by the National Institutes of Health and Rock Health foundation. In late 2017, she moved to India to work on DronaMaps, a company founded by her longtime friend and fellow Hopkins student Utkarsh Singh. Ayushi specializes in solution design at the intersection of design, technology, and business. She is passionate about the use of emerging technology to create a positive impact on the human condition and has been recognized by Vogue Magazine as one of eight women in STEM leading the battle against COVID-19 in India.
Genesis of the Idea
DronaMaps is a platform for large scale 3D mapping with drones and the use of deep learning for the extraction of geospatial analytics. Inspired by the Johns Hopkins COVID-19 dashboard, Utkarsh and Ayushi volunteered their platform to seven states across India to act as a command and control center, providing analytics like patient tracking, healthcare infrastructure tracking, containment and hotspot analysis, and predictions on spatial and epidemiological spread of the disease at a district level.
Utkarsh Singh, the CEO and founder of the company bought the first drone to film Ayushi's graduation walk at Johns Hopkins. Holding the device in his hand and understanding the extent of its capabilities was an eye-opening experience. He brought it back with him to India and used it to work on the Sawan Jhula Mela in Ayodhya. This festival necessitated the creation of a temporary urban infrastructure to support an influx of 3 million people into a small city. High resolution 3D drone maps with integrated live drone feeds suited the application perfectly. Swarms of drones were used to create 3D maps for planning of exit routes, and depth analysis to cordon off the dangerous areas of the river, among other things. This inspired Utkarsh to create a company that specializes in drone based mapping to support sustainable development applications at massive scale in emerging countries.
Utkarsh says that DronaMaps is successful in no small part to Lawrence Aronhime, a professor in the Center for Leadership Education at the Whiting School for his instruction in the fundamentals of business, his keen insights on the world of startups and incisive constructive criticism.
Work During COVID-19
Utkarsh and Ayushi were in Punjab (a progressive state in Northern India) during the month of March when the state was initiating its response to the COVID-19 crisis. During a casual conversation, their client referred to the coronavirus tracking dashboard made by Johns Hopkins University and the need to have something similar to track the virus at a local level.
As Johns Hopkins alumni, it was an opportunity to bring their education from their alma mater and the expertise of their company in geospatial intelligence together for the public good – taking their existing DronaMaps platform and creating a database modeled after the Johns Hopkins dashboard. Over time, the scope of work of the COVID-19 Command and Control Center expanded to include geofencing of quarantined patients, cluster analysis of the spread, location tracking with CDR (Telecom/ call records data, and predictive analysis for spatial spread based on these parameters. The Command and Control Center is live in more than 7 states and 130 districts across India, and the quarantine tracking of over 8.5 million individuals has been supported by the platform.