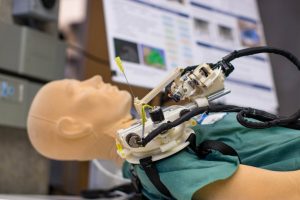 The Laboratory for Computational Sensing and Robotics showcased its trailblazing robotics research and industrial partnerships at its annual Robotics Industry Day, held this year on March 23 on the Homewood campus.
The event brought industry partners together with faculty, alumni, and students, providing a snapshot of the dynamic collaborations made possible by the LCSR. During his welcome remarks, LCSR Director Russell Taylor, John C. Malone Professor of Computer Science, laid out the center's key research and educational objectives.
"LCSR faculty span multiple departments, and you see a great overlap between research centers. We also have a strong co-op arrangement with industry, which helps our students land jobs with top robotics companies. There are no barriers to collaboration at Hopkins," said Taylor.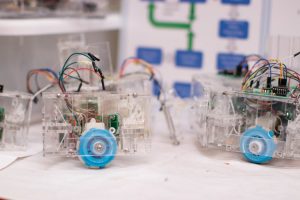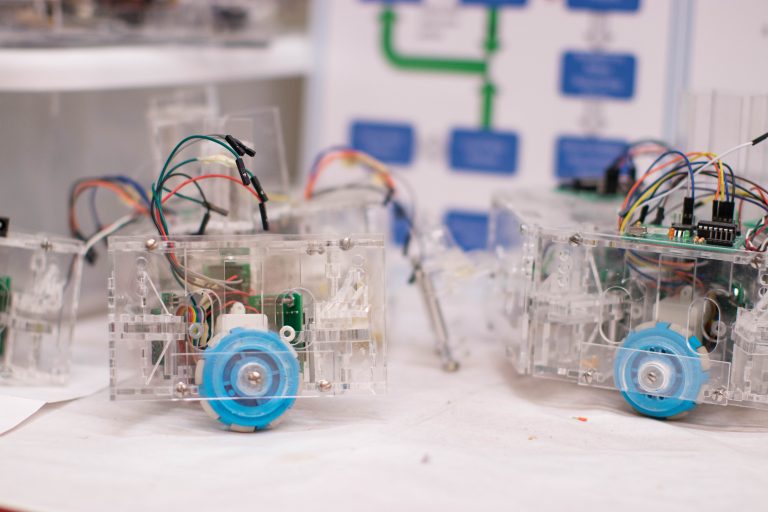 Dave Saunders, Sr. VP of Product Development at Galen Robotics, was among several industry partners who spoke about the benefits of working closely with Hopkins engineers. An LSCR spinoff working to commercialize the latest surgical robotics technology, Galen Robotics has hired several LCSR graduates.
"Hopkins has an excellent engineering team and excellent resources," said Saunders. "Even the undergrads we've hired as interns have been phenomenal. We've been happy to invest in the talent at Hopkins."
With its strong academic program that includes an undergraduate minor and a master's program, LCSR is a recognized leader in educating the next generation of roboticists.
"There's a great synergy between disciplines like computer science, mechanical engineering, electrical and computer engineering, etc. We're a trans-divisional center, and that puts us in a nice position to give our students a breadth of experience," said Noah Cowan, professor of mechanical engineering and director of the Locomotion in Mechanical and Biological Systems (LIMBS) Lab.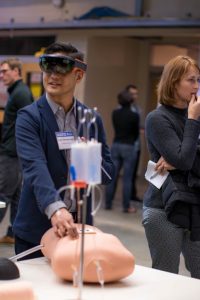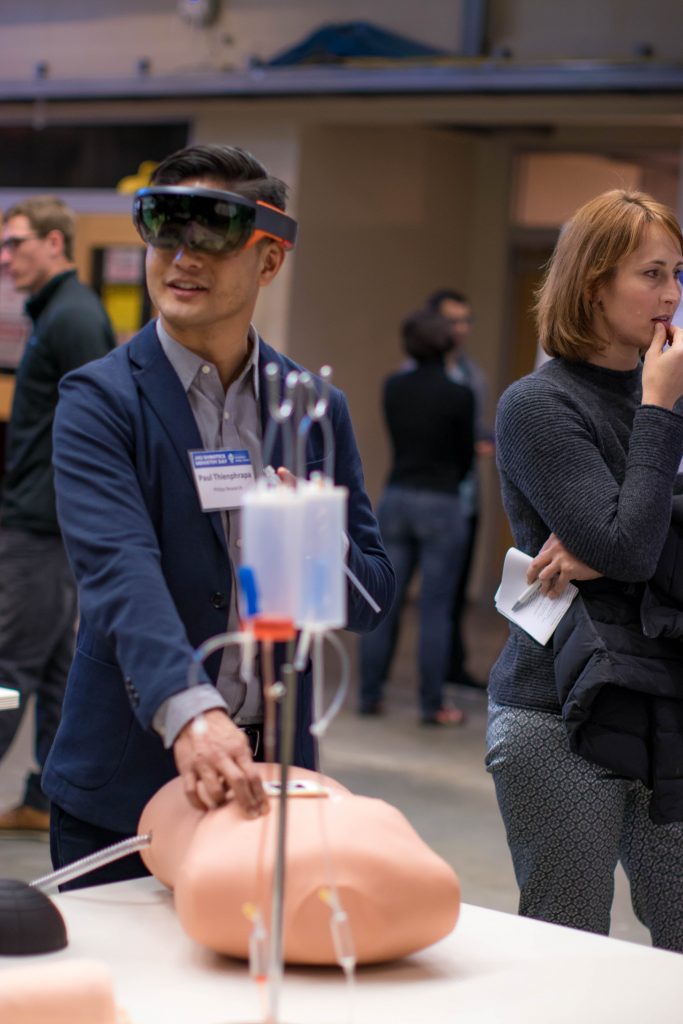 As industry continues to embrace robotics, LCSR houses the expertise to put research into practice. LCSR faculty members direct 16 labs that are developing new robotics capabilities in an array of fields, including medical robotics, autonomous vehicles, manufacturing, and bio-robotics.
On Robotics Industry Day, attendees were invited to explore the LCSR's "Robotorium" in Hackerman Hall, where industry visitors were transported to a world where robots are being developed for use everywhere—from the depths of the oceans to medical center operating rooms to living rooms.
They heard about how Chien-Ming Huang, John C. Malone Assistant Professor of Computer Science, is working to create robots that can assist people—including children with autism spectrum disorders—in their everyday lives. Other projects demonstrated included robot-assisted surgery, augmented reality devices, and aerial and underwater drones.