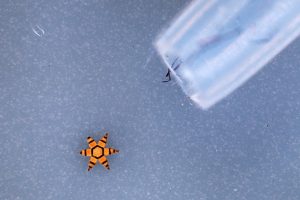 David Gracias, a professor in the Department of Chemical and Biomolecular Engineering has been elected as a 2019 fellow of the American Association for the Advancement of Science (AAAS) in the Section of Engineering.
This honor recognizes diverse accomplishments, including pioneering research, leadership within a given field, teaching and mentoring, fostering collaborations, and advancing public understanding of science. Gracias was elected fellow for his distinguished contributions to three-dimensional micro and nanoscale assembly.
Gracias' research focuses on the design, development, and characterization of miniaturized devices, intelligent materials, and systems, and accomplishes this through a multi-disciplinary approach that leverages conventional microelectronic chip fabrication methods, as well as novel self-assembly processes.
At Johns Hopkins, he has made revolutionary contributions to biomedical engineering by collaborating extensively with clinicians to apply the capabilities of micro and nanotechnology to modern medicine.
Gracias is one of four faculty members from Johns Hopkins selected as a 2019 fellow.