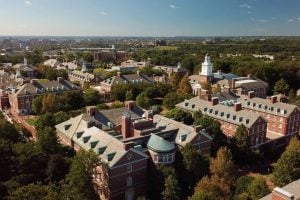 The Maryland/DC Campus Compact has included the Charm City Science League (CCSL), a Johns Hopkins student group dedicated to engaging Baltimore City youth in STEM activities, in its 2016 listing of model programs impacting communities in science, technology, engineering, arts, and mathematics education.
A non-profit organization comprising public and private colleges and universities, Campus Compact promotes student involvement in co-curricular based public service and civic engagement programs. It recognized the approximately 40 undergraduate members of the CCSL for their STEM-centered volunteer work with middle school students at nine Title I Baltimore City Public Schools. The group operates under a partnership of the Center for Social Concern and the Whiting School of Engineering's Center for Educational Outreach, and helps prepare students to compete in Science Olympiad events in biology, chemistry, physics, environmental science, engineering, and technology.
"This group has grown from a few students mentoring one Science Olympiad team the first year to 40 students mentoring seven teams, and they are doing important work, so it's wonderful to see it recognized in this way," said Christine Newman, assistant dean for engineering education outreach at the Center for Educational Outreach at the Whiting School.
Newman points out that Johns Hopkins hosts the Maryland Science Olympiad's state championships every spring. This year, the competition takes place on Saturday, April 23. Read Campus Compact's article about the Charm City Science League here.