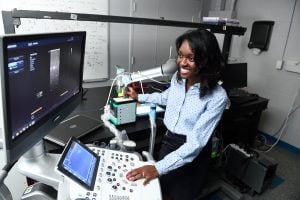 Muyinatu Bell (also known as Bisi), John C. Malone Associate Professor in the Department of Electrical and Computer Engineering, with a joint appointment in the Department of Biomedical Engineering and a secondary appointment in the Department of Computer Science, has been elected as a Fellow of SPIE, the international society for optics and photonics. 
SPIE Fellows have made significant scientific and technical contributions in optics, photonics, and imaging, and are honored for their technical achievements, as well as for their service to the optics and photonics community and to the society.
Director of the Photoacoustic and Ultrasonic Stems Engineering (PULSE) Lab, Bisi is recognized internationally for her pioneering work in medical imaging technology, specifically ultrasound and photoacoustic imaging, photoacoustic-guided surgery, robot-assisted imaging, machine learning for image formation, and other cutting-edge techniques created to significantly advance healthcare interventions and diagnosis.