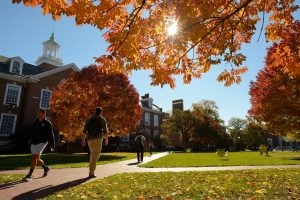 Johns Hopkins University's graduate programs in engineering are once again among the nation's best, according to U.S. News & World Report's annual Best Graduate Schools list.
The rankings, released today, are based on a number of indicators, including an institution's global and national reputation, publications and citations, research statistics, admitted student information, and other factors including leadership feedback from peer schools and programs.
The biomedical engineering graduate program, which is part of both Johns Hopkins' School of Medicine and the Whiting School of Engineering, held its place as No. 1.
"It is gratifying to be recognized for our excellence," said Ed Schlesinger, Benjamin T. Rome Dean of the Whiting School. "Our continued rise in the rankings and the recognition we receive as the nation's No. 1 program in Biomedical Engineering speaks to our reputation, our leadership in education and research across disciplines, the quality of our faculty and students, and the impact of our innovations."
The Whiting school ranked No. 16 for engineering graduate programs overall, moving up a spot this year to tie with UCLA.
Other engineering programs also moved up:
Environmental: from No. 25 to No. 16 (tied)
Electrical: from No. 20 to No. 19 (tied)
Computer Science: from No. 25 to No. 20 (tied)
Computer Engineering: from No. 33 to No. 23 (tied)
Civil: from No. 30 to No. 26 (tied)
Chemical Engineering also held its No. 20 this year (tied).
Other highly rated programs in the top 20 are:
Mechanical: No. 14 (tied)
Materials: No. 20 (tied)