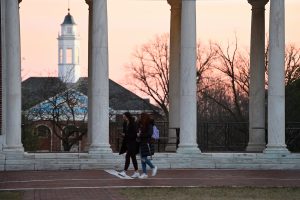 Johns Hopkins University's graduate programs in engineering are once again among the nation's best, according to U.S. News & World Report's annual Best Graduate Schools list.
The rankings, released today, are based on a number of indicators, including an institution's global and national reputation, publications and citations, research statistics, admitted student information, and other factors including leadership feedback from peer schools and programs.
The biomedical engineering graduate program, which is part of both Johns Hopkins' School of Medicine and the Whiting School of Engineering, stayed at No. 1.
"Johns Hopkins has defined the field of biomedical engineering for more than half a century, and it is immensely gratifying that we continue to lead in that area today," said Ed Schlesinger, dean of the Whiting School. "Our Department of Biomedical Engineering exemplifies our unwavering commitment to bringing together engineering and medicine to improve the health and wellbeing of humankind."
The Whiting school ranked 17th for engineering graduate programs overall. Other engineering programs also earned spots in the rankings:
Chemical: No. 20
Civil: Tied for No. 30
Computer: Tied for No. 33
Electrical: Tied for No. 20
Environmental: Tied for No. 25
Materials: Tied for No. 17
Mechanical: Tied for No. 13
Explore Our Graduate Programs
Reputation. Relevancy. Opportunity. At Johns Hopkins, the nation's first and leading research university, you will be trained and tested by the best.