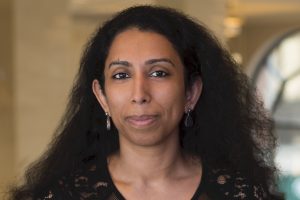 What made you choose Johns Hopkins?
I was a junior at a liberal arts college in Pennsylvania, when I decided that I wanted to pursue a career at the intersection of engineering and medicine. The graduate program in Biomedical Engineering at Johns Hopkins was ranked highest in the country  and there were scholarships and work-study options available even for a Masters' program which was rare at the time. I reached out to several faculty members and was grateful to get a summer internship with one of the professors in the BME department the summer before my senior year which evolved into my thesis project over the following year. This first hand experience with the quality of learning and research opportunities, combined with the camaraderie of graduate students and approachability of faculty not just in the BME department but in the school of medicine, public health and the hospital, convinced me that Hopkins was the place I wanted to go for my masters in biomedical engineering.
Do you have any memories that stand out from your time as a student?
I had a somewhat unique graduate school experience because my research project was co-funded as part of a startup/technology incubator. So besides attending classes and doing research, several of us graduate students were also involved in the start-up activities, everything from fundraising to managing the office. I have fond memories of setting up the office with my peers – from buying and assembling furniture to cleaning the office fish tank and feeding the fish!
That experience definitely gave me a leg up when I joined Medtronic two years later and was able to seamlessly transition from an academic to a corporate environment.
Do you have any advice for aspiring engineers?
Our world today faces complex challenges that require not only technological innovation and systems redesign but also an understanding of the consequences of our actions and embracing our moral and social responsibilities. As aspiring engineers, I would encourage you to have a purpose-driven and inclusive innovation mindset – So you can develop a wholistic perspective on the role technology can play in advancing the human condition, not just for the privileged few, but for everyone.
Where are you working now? How did you get involved in this line of work?
I have been in the medical devices industry (Medtronic and CR Bard) since I graduated from Hopkins. I started out in engineering and then over the years have taken on roles in upstream marketing, strategy and international market development. Along the way, I developed a passion for addressing the challenges of healthcare delivery for underserved communities, especially in emerging markets and have been focused on building new business models to address this huge unmet need. I currently lead Medtronic LABS – a social business that integrates technology and healthcare service delivery to improve outcomes for patients living with non-communicable diseases in low income settings.
Why do you choose to stay connected to Johns Hopkins as an alumna? 
The collaborative intermingling of medicine, engineering and business that underpinned my experience at Hopkins, has shaped my problem-solving approach and innovation mindset throughout my career. The support and guidance of peers, professors and alumni propelled my personal and professional development that significantly influenced my career trajectory. I am forever indebted and tremendously grateful for the mentorship and opportunities that Hopkins gave me and feel that it is my responsibility to help the next generation of students in any way I can!