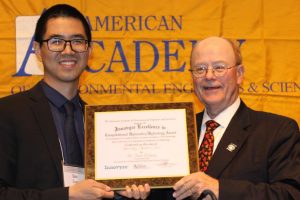 Qian Zhang, who completed his PhD in Environmental Engineering and Science in 2016, received the 2017 Innovyze Excellence in Computational Hydraulics/Hydrology Award from the American Academy of Environmental Engineers and Scientists for research he conducted on reducing nutrient pollution in the Chesapeake Bay.
The criteria for his selection included his research accomplishments, academic program performance, professional and community service, and his purpose and goals.
As a student in Johns Hopkins Department of Environmental and Health Engineering, Zhang and his advisor, Professor William Ball, examined progress in efforts to reduce nitrogen, phosphorus, and suspended sediment loads to the Chesapeake Bay, which have numerous environmental problems, including excess nutrients and low oxygen levels, that threaten the Bay's overall health and its marine life. Zhang's dissertation involved the analysis, modeling, and synthesis of large-scale data sets for better understanding nutrient and sediment transport from watershed systems and their impact on receiving waters.
Zhang now is a watershed effectiveness data analyst for the University of Maryland Center for Environmental Science, where he continues to analyze trends in river water quality and influencing factors to measure the success of Chesapeake Bay restoration efforts and guide science-based management decisions.
Learn more about Zhang's work here.