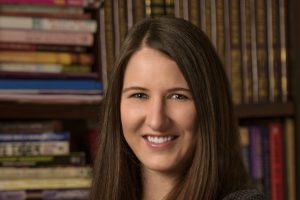 Danielle Beben is the CEO of Emrana Engineering LLC, an engineering consulting firm that develops clean, sustainable, efficient engineering solutions to help achieve global balance between human activities and the environment. She has worked as a civilian for the Department of Defense as a systems engineer at the US Naval Research Laboratory in Washington, D.C., and served as director of engineering within the entertainment industry for clients such as Disney and Universal Studios. Her portfolio ranges from live-interactive events to mobile development to computer vision. Emrana consults for startups, emerging businesses as well as Fortune 500 companies such as Google and Sherwin-Williams.
Beben is also responsible for the day-to-day operations and management as the COO of FEMED, a registered 501(c)(3) non-profit, which works to facilitate access to information, justice, education, health care, and clean drinking water for under-served communities. In light of the Flint, MI water scandal she started the Puri-Fi movement to provide independent water quality testing and raise awareness about conservation best-practices.
She graduated from Johns Hopkins University in 2015 with her Master's in electrical and computer engineering.
Q&A
What made you choose Johns Hopkins?
I chose Johns Hopkins because of it's academic research performance and global reputation. I thought they had a great engineering program and I was also fortunate enough to be able to make the commute to class, since I was still working full-time in DC.
Do you have any memories that stand out from the classroom or from the lab?
I really enjoyed the Human Robotics Interaction course with Robert Armiger and Dr. Jeff Lesho. It was so fascinating to learn about things like neural signal processing and prosthetic control as well as electromyography, haptic feedback, and telepresence from the perspectives of both engineering and human physiology at the number one ranked biomedical engineering university no less!
Do you have any advice for aspiring engineers?
If you enjoy taking things apart just to see how they work; complex problem solving; looking at the world with an analytical mind or are very data-driven, engineering is for you. Hey, engineering can be really tough at times, feeling stuck, stressed out or it might even make you break a sweat. I can almost guarantee you'll have to pull at least one all-nighter, but my advice to you is to hang in there, because when you finally do figure out that solution or have that eureka moment, that satisfaction, that blissful success will quickly overshadow and wash away your fret. Engineering material is tough because the world's complex problems are difficult to solve, but it will all be worth it in the end. Always remember, one person can make all the difference whether it's finding the Occam's razor solution to regenerate the world's oceans and jungles or uncovering a mystery like whether or not we live in some sort of quantized metaspace. Perhaps it's all the cliches like the world is your oyster but whatever you do, use your powers for good and don't let the sky limit you.
Where are you working now? How did you get involved in this line of work?
I am currently the CEO of Emrana Engineering and volunteer with FEMED a 501(c)(3) non-profit that aids in education for females in rural, under-served areas around the world. I suppose you could say I just gravitated towards these things because they are natural interests of mine. I love solving complex engineering problems, traveling around the world, have an entrepreneurial spirit, care very much for the environment, and feel called to help others.
Why do you choose to stay connected to and volunteer your time for Johns Hopkins as an alumnus?
I stay connected with JHU as an alumna because not only did I enjoy their program, I also want future Johns Hopkins students to enjoy the same calibre of enrichment I did and the best way I know how to do that is by staying connected, supporting the program and providing opportunities for the students of the future.