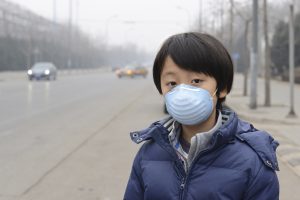 Johns Hopkins University has created a new academic department devoted to tackling environmental issues and their impact on public health. The Department of Environmental Health and Engineering, thought to be the only program of its kind affiliated equally with schools of public health and engineering nationwide, builds on the strengths of two long-standing, successful departments.
The Whiting School of Engineering's Department of Geography and Environmental Engineering and the Bloomberg School of Public Health's Department of Environmental Health Sciences now form the new department with its 82 faculty members and more than 250 students. Under Marsha Wills-Karp, a professor of environmental health sciences and of biochemistry and molecular biology, the department continues to offer undergraduate and graduate programs in environmental engineering, as well as the same range of master's and doctoral degrees in public health.
"We have combined the depth and breadth of expertise needed to propel discovery and innovation, and to educate the next generation of scholars capable of solving critical, complex, multidisciplinary problems at the interface of engineering and public health," says Ed Schlesinger, the Benjamin T. Rome Dean of the Whiting School.
The launch comes at a time of heightened awareness about the relationship between environmental factors and human health. Environmental influences—air, water and soil pollution, chemical exposures, climate change—contribute to more than 100 diseases and conditions, according to the World Health Organization.
The new department has received a $1 million gift from two Johns Hopkins alumni, Yu Wu, MS '89, PhD '96, and Chaomei Chen, MS '88. Chen is a member of the Whiting School's Advisory Board and a Johns Hopkins University trustee. The gift provides seed funding to support collaborative research projects.
The couple said, "This exciting collaboration will help Johns Hopkins continue to create valuable knowledge that will improve human health, the environment, and the world."