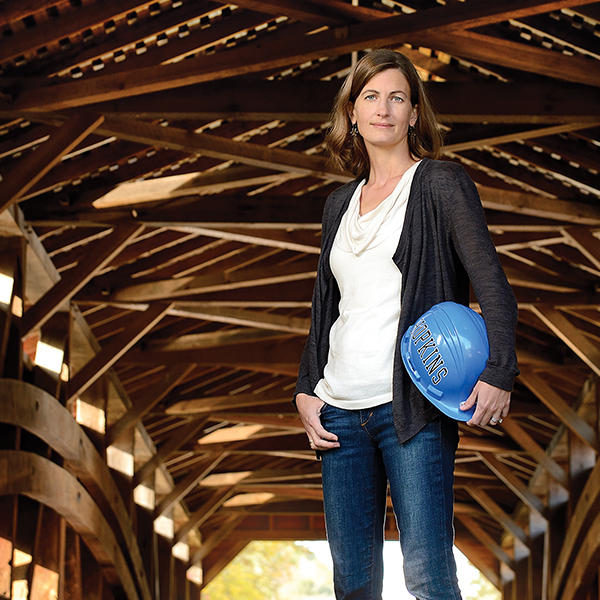 By looking back in time to study the evolution of covered bridges, Rachel Sangree equips students with wisdom they need to design structures of tomorrow.
Early-morning sunshine floods the interior of the Gilpin's Falls Covered Bridge in Cecil County, Maryland. It bathes the trusses, arches, wood deck, and lateral braces in a thick amber haze. At the center of it all stands a smiling Rachel Sangree, PhD '07.
"It's so interesting, isn't it?" says Sangree, a lecturer in the Whiting School of Engineering's Department of Civil Engineering. "You can see how it's all put together and how each part of the design plays an important role. Bridges are unique among structures in that way: The architecture and engineering are often one and the same, and the structure is visible to examine and think about."
Sangree is an expert in the history and construction of covered wooden truss bridges, which began to spring up in New England in the early 1800s and reached their height of popularity by the end of the Civil War. At one time, there were as many as 10,000 covered bridges around the country. Fewer than 800 survive today.
On this bright morning, she is taking a visitor on a tour of the bridge built in 1860 so that carriages and people could traverse gurgling North East Creek. At 119 feet, it is the longest remaining covered wooden bridge in Maryland and one of five in the state listed on the National Register of Historic Places.
"This is a great example of what we call a Burr Truss," Sangree says. She points to the graceful timber arches and multiple king-post trusses, all fashioned out of fragrant eastern white pine and clad in a clapboard shingle shell. "This kind of truss, patented in 1806 by Theodore Burr, is all wood and relies heavily on skilled craftsmanship. It is one of the earliest successful wooden truss bridge patents. Hundreds of these were built."
Sangree imparts her knowledge of historic covered bridges to Johns Hopkins students in civil engineering classes, such as Perspectives on the Evolution of Structures, which covers the history of structural design. Students not only learn about a structure's engineering details; they also learn to decode its social, scientific, and symbolic significance, she notes.
"Students are often inspired by new designs—the tallest building in the world, the longest bridge—but the knowledge needed to successfully design and construct such monumental works has taken us hundreds of years to acquire, and during that time we have learned many dozens of lessons," Sangree explains. "It's important for students to learn how structures evolved over time, including the successes and failures throughout that evolution, so they are well-prepared to build on that knowledge when they design the monumental structures of tomorrow. "
Sangree's keen interest in old structures, their history, and the artisanship involved in their construction is rooted in her childhood in a turn-of-the-century stick-framed house with a wide front porch in Geneva in western New York state. The house brimmed with antiques collected by the family as well as handmade objects crafted by parents and grandparents. Her father's avocations were woodcarving and bowl turning, and her mother was prolific in fiber arts, including weaving, quilting, and needlepoint.
"There was a lot of handiwork going on in my house when I was a child," she remembers. "I think as a result of this, I grew up learning to appreciate the skill and craftsmanship once present in the household objects and instruments that we use every day. The early craftsman tradition of engineering—which is particularly evident in American covered wooden bridges—has always appealed to me for that reason."
After completing her undergraduate studies at Bucknell University in 1998, Sangree spent three years working as a bridge engineer for Whitman Requardt & Associates LLP, a Baltimore-based firm.
"The first historic bridge I worked on was the Hollifield Road Bridge, which is a steel Parker Pratt through truss built around 1933 to span the Patapsco River between Baltimore and Howard counties," she remembers. "I found myself intrigued by the problem of how to connect a new floor system to the historic truss. To me, older structures just have much more character."
Her involvement with covered bridges began when she started as a graduate civil engineering student at Johns Hopkins and interned for the National Covered Bridges Recording Project. Administered by the National Park Service's Historic American Engineering Record, the project, which began in 2002, sent architects, engineers, historians, and photographers across the United States to document as many of the surviving bridges as possible. So far, 90 such bridges have been documented, and the project is ongoing.
Sangree, with her graduate adviser, Benjamin Schafer, a professor in the Department of Civil Engineering, spent several hot summer days in 2003 load testing and measuring three New England covered bridges: Morgan Bridge in Belvidere, Vermont; Taftsville Bridge in Taftsville, Vermont; and Contoocook Bridge in Contoocook, New Hampshire.
The material collected that summer included not only the results of engineering studies but also photographs and architectural drawings of the bridges, as well as extensive research on local climate, history, and economy. Besides being available in the Library of Congress, many of these records made their way into a book, Covered Bridges and the Birth of American Engineering, published by HAER. Sangree is a contributing author.
"These bridges are an important piece of American engineering history that must not be lost," says Christopher Marston, architect and project leader for HAER's National Covered Bridge Recording Project.
Sangree enjoyed the work with HAER so much that after completing her internship, she continued to study the behavior of wooden truss bridges, as well as the traditional joinery used in those bridges, for her doctoral dissertation. By that time, she admits she had "pretty much" fallen in love with wooden truss bridges.
"It may sound fanciful," she says, "but I always find myself considering all the history that older structures have seen."