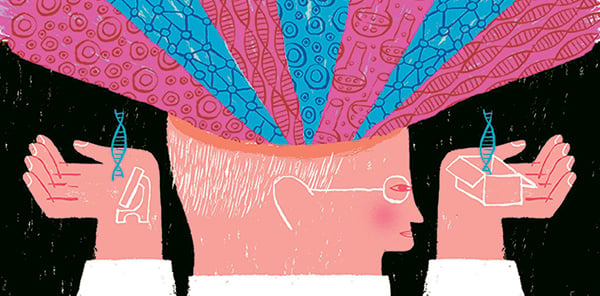 Less than a mile from the Homewood campus sits the Stieff Silver Building, once a symbol of turn-of-the-century manufacturing prowess. Today, a new era of economic development is taking hold here.
The Whiting School of Engineering is underwriting this foray into entrepreneurship with FastForward, a program aimed at commercializing the university's promising intellectual property (IP) and building a community of entrepreneurs. The venture includes an IP assessment system, technology accelerator, and education program, all aimed at fostering a Silicon Valley–like startup vibe in Baltimore.
FastForward offers a way for professors, graduate students, undergrads, and alumni to create businesses and opens the door for outside investors to get in on early-stage ventures, says John Fini, FastForward director, who oversees the Homewood Office of Intellectual Property and Technology Commercialization.
Fini's team assesses a startup's commercial potential, and if it looks promising and has an external funding source, it will be considered for the accelerator. There is space for up to 16 companies; eight startups have been accepted into the program.
Some ideas that have made the cut: an ultrasound probe that safely guides needles during delicate procedures, a new way to screen for cancer biomarkers, and a hydrogel that shows stunning promise in curing wounds.
Clear Guide Medical, the first company accepted into the accelerator, recently was named a Maryland Incubator Company of the Year by the Maryland Technology Development Corp. (TEDCO).
FastForward also will facilitate outside investment with the Johns Hopkins Venture Fund, open to external investors. Modeled after other successful funds, it will make early-stage investments. "Our goal is to get these companies through that critical early-stage startup stage," Fini says.
The startups qualify for seed money, may receive subsidized rent for up to 24 months, and are open to external investment. In some cases, Hopkins will take an equity stake in startups. Any returns will be used to assist future companies. To date, three companies in the Stieff Building have pulled in more than $1.5 million in federal and state seed grants, and they are seeking additional external funding.
FastForward also will work with the JHU Center for Leadership Education to sponsor seminars, podcasts, and other events for undergrads, graduate students, and faculty aimed at fostering an entrepreneurial spirit on the Homewood campus and beyond.