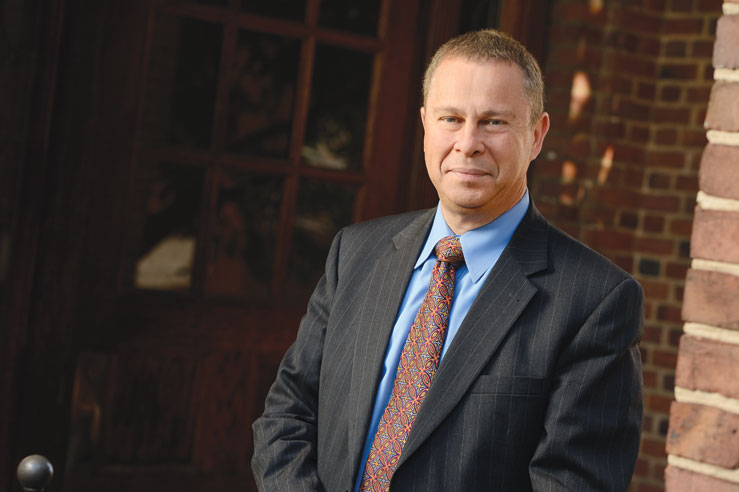 In late October, faculty, staff, and students from across the University welcomed to campus T.E. "Ed" Schlesinger, the new Benjamin T. Rome Dean of the Whiting School of Engineering. Schlesinger's appointment was effective January 1.
Schlesinger joins Johns Hopkins from Carnegie Mellon University where he was a faculty member for 28 years and served as the David Edward Schramm Memorial Professor and head of Carnegie Mellon's esteemed Department of Electrical and Computer Engineering.
"Today brings our search to a happy fruition," said Johns Hopkins President Ronald J. Daniels, noting that Schlesinger was the clear standout in "a constellation of fabulous candidates" identified by the University's search committee. "He is an outstanding scholar, teacher, innovator, and manager, and these accomplishments are matched only by the energy and passion he brings to engineering."
At Carnegie Mellon, Schlesinger presided over more than 100 faculty members and led significant growth in his department. Among his accomplishments were integrating electrical engineering and computer engineering into a single degree program (Electrical and Computer Engineering), expanding graduate course offerings, and increasing support for faculty while building productive corporate partnerships and developing successful research collaborations across the globe—from Silicon Valley to Portugal, Rwanda, China, Singapore, and India. As a researcher, Schlesinger—who holds a PhD from CalTech—has focused on solid state electronic and optical devices, nanotechnology, and information storage systems, and he is a leader in research related to the development of heat-assisted magnetic recording.
According to Daniels, Schlesinger's bold and deft leadership garnered the respect of his colleagues and collaborators and raised the reputation of his department—at Carnegie Mellon and around the world. In considering his role at the Whiting School, Schlesinger speaks of the "amazing opportu-nities" he believes the School and University can realize in the coming years, observing that "Johns Hopkins and the Whiting School are without doubt among the finest institutions in the world, and I view this opportunity as a privilege of both leadership and stewardship. I see my role as enabling Johns Hopkins students and faculty to achieve their goals while sharing a common vision for what it means to be a Hopkins engineer in the 21st century."