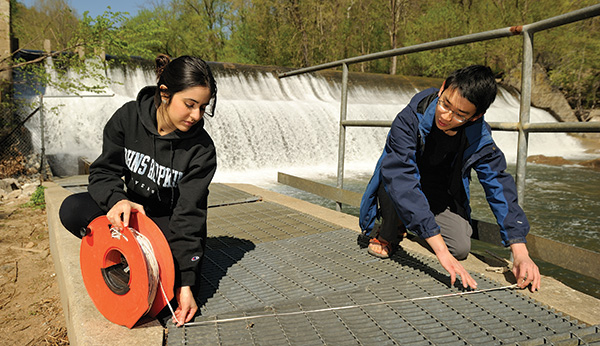 A relic of times past, Maryland's Bloede Dam—the world's first self-contained, underwater hydroelectric dam—stretches across the Patapsco River in what is now the area's revered Patapsco State Park. Built in 1907, this dam, a hollow-core concrete structure 230 feet across and more than 30 feet tall, provided power to nearby homes and businesses in the Patapsco Valley, a hotbed of industrial innovation in the 1930s.
Abandoned in 1931, the dam now is the focus of an environmental dilemma. The dam structure stands between migratory fish, such as herring and Hickory shad, and more than 60 miles of free-flowing river. But it also is a historical landmark, and its removal raises concerns about releasing stored sediments into the river and, ultimately, the Chesapeake Bay.
This spring, Johns Hopkins students in the Department of Geography and Environmental Engineering's Senior Design Class were tasked with developing solutions to the environmental stalemate. Working under faculty advisor Peter Wilcock, student teams were assigned stakeholder clients—including the Maryland Historical Trust, Maryland Department of Natural Resources, and the Maryland Depart-ment of the Environment—with competing interests. The challenge: to solve the fish-passage problem while accounting for issues of water quality, public safety, integrity of a nearby sewer line, historical and cultural values, and cost and feasibility.
The winning design, an alternative solution for fish passage created by seniors Meagan Hawes (team leader), Natalie Byers, Su Zie Lee, and Tim Youtsos, proposed leaving the dam in place and building a 1,000-foot "nature-like" bypass channel with a 3 percent slope to allow migrating fish to swim through freely, preserving the historic dam and mitigating impact on downstream water quality. The team's client for the project was the Maryland Department of Natural Resources' Park Service, and owner of the dam. The design competition panel cited the team's innovative approach and responsiveness to client and regulator input, as well as the quality of the design presentation.