When engineering undergrads interview for summer internships, they often are asked to describe two things: a team project and their biggest challenge. Adam Gross '13 has a single answer to both questions: the "intelligent ground vehicle" he's been working on since freshman year.
Gross, a computer engineering major, and his teammates each clock five or six hours a week in the lab coaxing the robot toward readiness. Building on the efforts of an evolving group of students over three years, this team spent the fall semester fortifying the
circuitry and hardware. By spring, the software was the priority. Their goal: to have the little frame on wheels filled with electronics ready to compete in an international competition in early June, where entries navigate an outdoor obstacle course while judges look for speed and accuracy.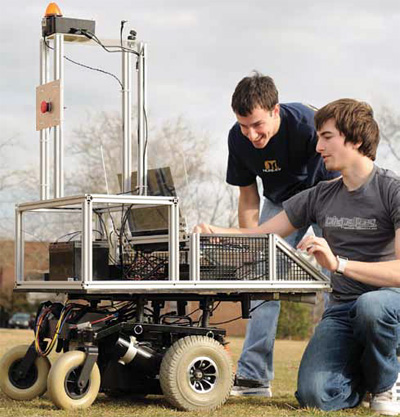 An aluminum and plastic frame, mounted on a plywood board atop a wheelchair chassis, houses the GPS, sonar, and camera for navigation, the motor controller, and a host of switches, regulators, and wires. An on-board laptop runs a program that pulls information together like a brain and determines how the robot will make decisions out on the course: what route to take, how fast to travel, and what to do when it nears an obstacle. With a $500-per-semester budget, it's not fancy.
Gross serves as team leader for the Electrical and Computer Engineering Team Project course. The group checks in weekly with Professor Jin Kang, but he leaves all the work and decisions to them. Turning the separate components into a functioning robot requires students to cooperate as a team as well as integrate and apply concepts they've learned in every course. "It's cool to see it come together," says Michael McEleney '13, also a computer engineering major.
In a mostly abstract field, the robot challenge provides valuable experience, notes Kang, explaining that the kinds of kids who, in the past, grew up taking apart their parents' appliances, now spend time at computer screens. While they may be technically adept, they're often unfamiliar with a wrench or soldering iron before they tackle their first design project. "Things can be conceptually very straightforward," Kang says, "but you don't know how difficult it is until you try to do it on your own."
Under a cloudy spring sky, the robot makes a test run in March. It lurches across the grass, jerks to a stop, turns slightly, and staggers off again. Eleven students watch with a mixture of hope and dismay. It's headed in the right direction, but fluency is a long way off. The team decides the robot is thinking faster than it moves, and heads back to the lab discussing tweaks to the program.
Kang says it can be tough not to step in and help when he sees the students struggle, but it's important to resist. "I don't want to just tell them the answers," he says, "because actually learning what are not answers is as important as learning what is the answer."
While the team members continued their work until the eleventh hour, in early June they hit what turned out to be an insurmountable roadblock: The sonar range finders on the robot failed, rendering the vehicle unsuitable for the competition beginning June 8 in Rochester, Mich. Though disappointed,
Gross and McEleney-and their teammates-are optimistic that with continued work next academic year, the team will find the formula for success.