Climate Showcase promotes energy efficiency in Baltimore nonprofits.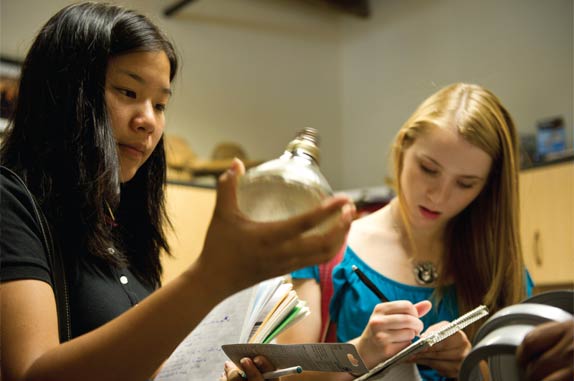 On a sweltering July afternoon, during the hottest summer on record, Kristen Hum '12 paused as she entered the Eubie Blake National Jazz Institute and Cultural Center in downtown Baltimore. The geography and environmental engineering major turned to her classmate Julie Ufford and whispered, "Did you see it? A broken window." Cool, refreshing air, and the energy it took to produce it, seeped out into the stifling city.
Hum jotted her observation quickly on her checklist, before joining Ufford and Yashar Afkari '13, a biology major, in the lobby. The students were there as part of the Climate Showcase, a program run by Johns Hopkins' Office of Sustainability and sponsored by Baltimore City through an Environmental Protection Agency stimulus grant. For the past two summers, this initiative has enabled six undergraduates to assess the energy efficiency 
of Baltimore nonprofit organizations and 
provide these often cash-strapped institutions with money-saving, environmentally friendly strategies.
The Eubie Blake Center, on Howard Street in Baltimore's Mount Vernon neighborhood, is housed in two sprawling, late-19th-century row houses–hardly the portrait of modern-day energy efficiency. One building was the original site of the University of Baltimore Law School; the other a factory where false teeth were manufactured.
On this summer day, the buildings buzzed with a wide range of activities. Upstairs, young students rehearsed in the dance studio, recorded a jazz performance in a gallery, and painted ceramics in the art room, while downstairs, visitors enjoyed an exhibition devoted to Blake, Billie Holiday, Cab Calloway, and other Baltimore jazz legends. But for the Hopkins engineers, this was no jazz joyride. They meant business.
After meeting with the center director, Troy Burton, and learning about the building and its uses, the team set off on a fact-finding tour. Over the next two hours, they measured, calculated, observed, and noted everything from the wattage of elevator light fixtures, temperature changes caused by drafty windows, toilet flush times, and computer monitor settings to details about the building's cooling system. All this was needed for the sustainability assessment they would present to Burton at week's end.
"This started a few years ago with a couple of engineering students who realized there was a lot the university could do to conserve resources in its own buildings," says Davis Bookhart, director of JHU's Office of Sustainability. "They came up with a list of easy-to-implement, low-tech ideas-like adding occupancy sensors to rooms-that could make a big difference over time." Bookhart hired the students as interns, acted on their suggestions, and then worked with the city to expand the JHU program to benefit the Baltimore community.
Each student team visits two organizations per week. Mondays are devoted to introductions and tours, Wednesdays to meetings with staff to learn about behaviors that impact energy usage, and on Fridays, the teams present their findings.
"The most satisfying parts are saving the organizations money and learning about the work they do," says Ufford. "Often, we can connect them with programs and resources they didn't know about."
Among the students' suggestions for the Eubie Blake Center: lower the temperature of the hot water heaters, contact BGE to get a free lighting audit and occupancy sensors and recover up to 80 percent of the cost of retrofitted light fixtures, and insulate the fourth floor ceiling. Estimated savings by switching to 
energy-efficient LED light bulbs included $30 a year for one exit sign and $100 a year for an elevator light and up to $1,700 over two years by replacing the lobby fixtures. The biggest bang for the buck? Installing programmable thermostats that could cut heating and cooling bills by up to 30 percent.
In downtown Baltimore, during a sweltering summer, that's a cool idea.