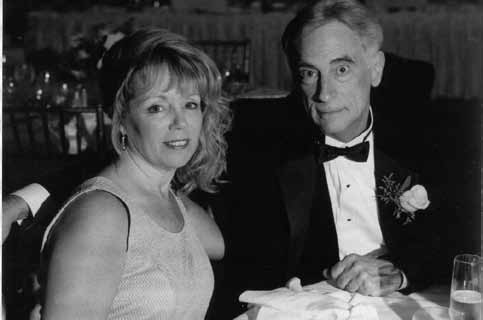 On Thursday, October 22, Dean Nick Jones hosted the first annual Whiting School Fellowship Dinner in Levering Hall on the Homewood campus. There were more than 50 graduate students, alumni, faculty, and friends in attendance to celebrate the generosity of those who fund fellowships and the talented students who receive them. During the program two students, Elizabeth Reilly and Craig Rosenblum, spoke about the role of philanthropic support in their research, studies, and overall experience at Johns Hopkins.
The keynote speaker for the evening was Walter Robb, a former GE executive, active venture capitalist, and longtime friend of the Whiting School.
In 2002, Robb established a fellowship challenge in which he matched alumni gifts to establish fellowships. Lou Brown '65 and his wife, Wendy, were among the first to respond to Robb's fellowship challenge and know well the role of philanthropy and leadership in the success of the school. At the conclusion of the dinner, Dean Jones announced that the Browns had made a leadership gift to launch a new fellowship challenge. The Lou and Wendy Brown Fellowship Challenge will fund several first-year graduate fellowships. Like Walt Robb's gift before, this gift will help support graduate students, and bring many alumni and friends closer to the school.
Said Brown, "My wife, Wendy, and I established our fellowship to provide assistance to young, dynamic researchers as they pursue excellence at the Whiting School. Now is an exciting time in the field of engineering in general, and at the Whiting School in particular, and we are thrilled to support the school and its students in this way."