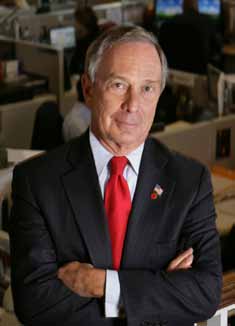 New York City Mayor Michael R. Bloomberg '64 has been honored with the Mary Woodard Lasker Public Service Award, which recognizes those who either support research or who lead public health and advocacy programs "of major importance."
Bloomberg, who is former chair of the Johns Hopkins Board of Trustees, and a generous supporter of the university, including the School of Engineering, received the award "for employing sound science in political decision making; setting a world standard for the public's health as an impetus for government action; leading the way to reduce the scourge of tobacco use; and advancing public health through enlightened philanthropy," according to the Lasker Foundation.
"At Johns Hopkins, of course, Mike has advocated for and supported critical research, including, among others, the work of the Johns Hopkins Malaria Research Institute," said Johns Hopkins President Ron Daniels in a statement to the university community. "He also has been deeply committed to the education and training of public health professionals for service around the world. His passion for and dedication to the cause of a healthier future for all the world's citizens led to the renaming of what is now the Johns Hopkins Bloomberg School of Public Health."
Bloomberg School Dean Michael Klag offered his congratulations at the announcement of the award, noting, "To many of us,[Michael Bloomberg] is a shining example of an enlightened elected official. To those of us who care about the health of populations, he is a hero."
Under Mayor Bloomberg's leadership, New York City enacted a comprehensive tobacco control program that prohibited smoking in virtually all indoor workplaces, including restaurants and bars. His smoking initiative has become a model for many states and European countries. The legislation is credited with decreasing smoking and preventing an estimated 100,000 unnecessary deaths. According to the New York City Health Department, the current rate of teen smoking in New York City is two-thirds lower than the national teen smoking rate. The mayor's foundation has invested more than $375 million in global antismoking efforts and established the Bloomberg Initiative to Reduce Tobacco Use.
Bloomberg has also worked to combat gun violence. From 2000 to 2008, the total number of murders in New York City declined by approximately 20 percent. Much of the reduction in homicides has been attributed to policing methods that have made it riskier to illegally carry concealed weapons. He also founded Mayors Against Illegal Guns, which now includes 400 mayors representing over 56 million Americans.