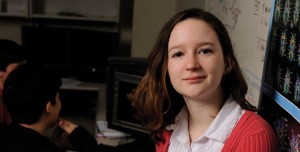 Britni Crocker '09 dreams of the difference her research may one day make—and that day may come sooner than she ever could have imagined.
In the fall of 2008, as part of the senior Biomedical Engineering Design Team course, Crocker led a research team of five undergraduates in creating a low-cost detection kit for preeclampsia, a condition that claims the lives of 75,000 pregnant women each year, primarily in developing countries. Though routinely diagnosed and treated in the United States through urine and blood pressure tests, the urine test's 60-cent price tag puts it out of reach for 90 percent of women in the developing world.
As design team leader for the project, sponsored by Jhpiego (an international nonprofit health organization affiliated with Johns Hopkins), Crocker set goals and deadlines for design and production and served as liaison to Jhpiego. Field-testing for the team's prototype, which costs less than one-third of a cent per test, began in Nepal this past spring. With Jhpiego serving more than 50 developing countries, the test kit they've developed could save the lives of tens of thousands of women across the globe.
"One of the reasons I became an engineer was to design devices that help people," says Crocker, who is excited by the plans for field testing.
But her crucial role in the project was almost jeopardized. Just prior to her final year (she graduated early, completing her undergraduate course work in just three years), the Crocker family's finances changed dramatically. "My family applied for financial aid knowing they might have to tell their daughter that the limit is anything less than the sky," she recalls.
Then came welcome news: In addition to receiving support from the Margareta E. Augustine Scholarship Crocker had been named the first recipient of the Andrew and Dolores Bozzelli Endowed Scholarship, established by the late Andrew Bozzelli '53, and his wife, Dolores, as well as through gifts made in Bozzelli's memory by numerous trustees in an effort led by Wendell Smith '54 and Robert Seder '81. Bozzelli had been a full-scholarship student while majoring in mechanical engineering. He went on to become an ardent supporter of Johns Hopkins, funding fellowships for biomedical engineering students and serving as a university trustee, a trustee of the Johns Hopkins Health System Corporation, and an Advisory Council member for both the School of Medicine and the Whitaker Biomedical Engineering Institute.
With the Bozzelli Scholarship, a grateful Britni Crocker was able to complete her biomedical engineering degree, lead her senior design project, and set her sights on her goal of developing devices that help repair brain damage— work inspired by her research in the computational neuroscience lab at the Zanvyl Krieger Mind/Brain Institute under the direction of Michael I. Miller, the Hershel and Ruth Seder Professor of Biomedical Engineering. "We studied how the brain changes shape with different diseases, as part of a long-term goal of earlier detection of Alzheimer's, bipolar disorder, depression, and schizophrenia," explains Crocker, who, as an undergraduate, garnered a prestigious internship at the Max Planck Institute for Brain Research in Frankfurt, Germany.
Reflecting on her experience at Johns Hopkins, Crocker says, "It has been wonderful for my engineering skills to have a real, immediate impact and for me to see people's lives change as a result."