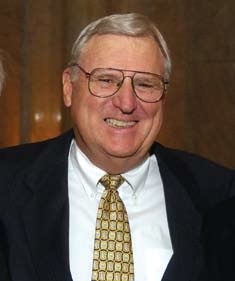 Andrew Paul Cox Jr., of Glen Allen, Va., died Monday, April 13, 2009, after a brief illness. Born in Baltimore in 1937, he graduated from Baltimore Polytechnic Institute in 1956 and from Johns Hopkins University with a BES in electrical engineering and MS in management science in 1959 and 1970, respectively. An ROTC graduate, he served as a first lieutenant in the Army Artillery after college, stationed at Fort Sill, Oklahoma, and Fort Hood, Texas, in 1960.
He co-authored and received numerous patents and designed computer circuits at Westinghouse Underseas Division from 1961 to 1967. He eventually became marketing manager for IBM in Richmond, Virginia, from 1967 to 1980, before Data Systems Corporation hired him as president and CEO; he served on the board there until the company was sold to BISYS in 1989. Cox was hired by Standard Register in Dayton, Ohio, as general manager and corporate vice president to run the business systems division until he retired in 1996.
He was awarded certification as a Certified Management Consultant and became owner and principal of Asset Protection Company, a financial management consulting company. At the time of his death, he was chairman of the board of Spherix in Bethesda, Maryland.
Cox was an active member of the Johns Hopkins University Whiting School of Engineering National Advisory Council for 20 years. He was co-chair of the Class of 1959's 50th reunion and was a charter member of the Society of Engineering Alumni for the Whiting School of Engineering. For his outstanding service to the university, he received the Johns Hopkins Alumni Heritage Award in 1995. The Andrew Paul Cox Scholarship in electrical engineering was established by Paul and his wife, Trudy, in 1987 in memory of Paul's father. The Paul Cox Laboratory is located in Maryland Hall on the Homewood campus.
"Paul was a remarkable man with a rare generosity of spirit," says Benjamin T. Rome Dean Nick Jones. "His dedication to the Whiting School was extraordinary and his contributions too numerous to list. We were fortunate to have him as part of the Whiting School family and to have benefited from his leadership and guidance."