From April 17 to 19, about 4,000 alumni came to the Homewood campus for the annual homecoming celebration, where members of several classes also celebrated their reunion years. More than 75 events unfolded throughout the weekend, including the beloved crab cake lunch (some 1,998 cakes were served) and the Blue Jays 15-7 victory over Navy.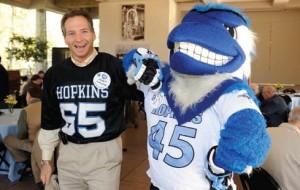 R. Andrew Ramelmeier, PhD '84 (BS Chemical Engineering), shown here with the Blue Jay at the Dean's Reunion Breakfast, celebrated his 25th reunion.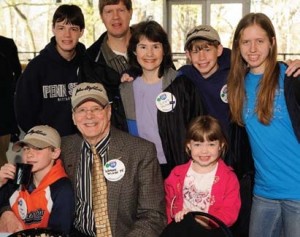 Warren E. Wilhide Sr. '58 (BS Industrial Engineering) is shown here at the Dean's Reunion Breakfast with his daughter, Laura Hultguist, and her family.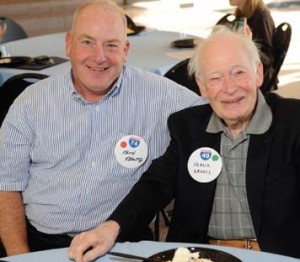 Frank M. Krantz '49 (BS Mechanical Engineering) celebrating his 60th reunion, is pictured here with his son Keith C. Krantz '74 (Arts & Sciences) who was celebrating his 35th reunion.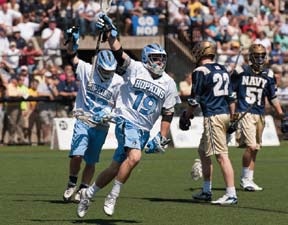 Blue Jay Brian Christopher (#19) and teammate Chris Boland share a celebratory moment during the Hopkins win over Navy.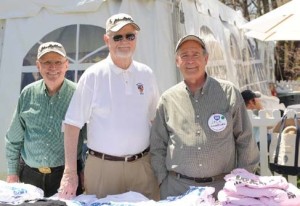 SEA Table: John Hass '52, Tom Wilkins '72, and Jack Schrodel '57 represented the Society of Engineering Alumni (SEA) as they gave away peanuts before the game and sold Hopkins Engineering T-shirts to benefit the Student Initiatives Fund.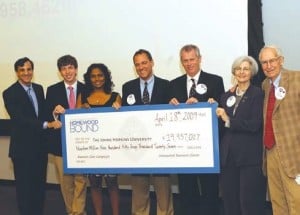 President's Welcome: On Saturday morning President Daniels addressed his first ever reunion crowd at his welcome. He is pictured here with Whiting School Dean Nicholas Jones, Arts and Sciences Dean Adam Falk, Alumni Association President Gerry Peterson '64 NURS, and alumni and student representatives who presented the university with a check from all the reunion classes.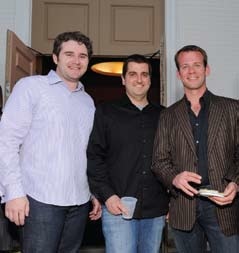 The Class of 1999, including (l to r) Matt Daimler '99 (BS Computer Engineering), Deron Charkoudian '99 (BS Mathematical Sciences) and, and Edward O' Malley '99 (BS Mechanical Engineering) celebrated its 10th reunion.