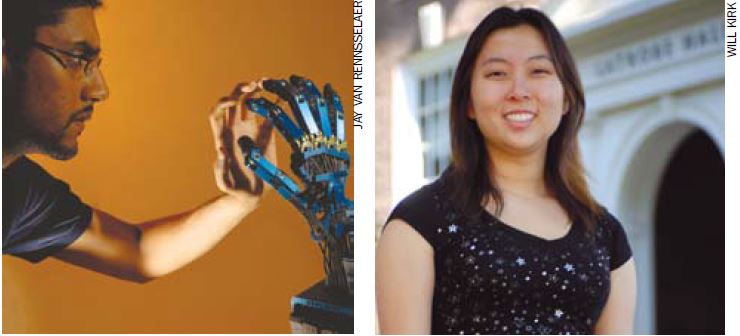 For a start-up, cVision Medical SolutionsTM is racking up an impressive track record. Founded in 2007 by Johns Hopkins researchers and graduates, cVision's flagship product cVeinTM began as a senior design project of students Vikram Aggarwal, Aniruddha Chatterjee, Jason Chiang, Yoonju Cho, and Wai Yim Lam. Today, the device is in clinical human trials at Hopkins' Bayview Medical Center Cardiac Catherization Lab and will soon expand to a cardiology group in Denver.
But getting to this point wasn't easy, recalls PhD candidate Aggarwal, MS '07. After he and his team had created a second-generation prototype cVein (a low-cost, noninvasive solution for measuring central venous pressure, safely, accurately and in real-time by a handheld, ultrasound-guided probe), they were eager to compete at the 2007 Boomer Venture Summit Business Plan Competition at Santa Clara University.
They lacked just one thing: the money to travel to California. "Funds were scarce at that point," he recalls. Then they learned of the WSE Student Initiatives Fund (SIF). "Without it, we would not have been able to go," says Aggarwal. "We were selected as one of five finalists in the competition, and the contacts and exposure we made there have catapulted us to the stage we are now."
Established by Dean Nick Jones in 2006, the Student Initiatives Fund supports both individual students and student groups. Awards are used as seed money for projects that are so often essential to taking a student's education and experiential learning to the next level.
Society of Engineering Alumni (SEA) Council executive board member and University Alumni Council member Carl Liggio '96, MS '00, PhD '01, is an enthusiastic donor to the fund. After a presentation about the Student Initiatives Fund during an October 2006 SEA Council meeting, Liggio, the founder of the energy industry's Systems Analysis, offered a challenge on the spot to all in attendance. "I said I would donate $500 and by the end of the day, the fund had $2,000," he recalls proudly. "I give every year. Without funding, student groups have to struggle to do things well. A little money from the fund goes a long way."
Just ask Linda Wan '09, who is beginning her yearlong tenure as president of Hopkins' Engineers Without Borders (EWB) chapter and is a veteran of two EWB trips abroad. As leader of Hopkins' EWB Ecuador project— the chapter currently focuses on engineering projects in Ecuador, Guatemala, and South Africa—Wan traveled in January 2006 to the rural community of Santa Rosa de Ayora, Ecuador, to assess the development and con- struction of a much-needed daycare center.
Typically, the Student Initiatives Fund supports "in country" living expenses for students, such as room, board, transportation, and interpreters. "It aids us in places where grant money or our own fund-raising falls short," Wan says. "Because of the SIF, we're able to complete our assessments and projects, so we can go back home and do our design." As a result of her experience in EWB, Wan changed her major from chemical engineering to civil engineering, and she's planning to apply to Michigan Technological University's Master's International program, which includes a year of course work followed by two years in the Peace Corps. "At Hopkins, it's all about opportunity," she says. "EWB has inspired me so much that I want to continue to use my skills to help people."
Like Aggarwal and Wan, Liggio believes students gain far more than just engineering experience from the activities supported by the SIF: "It's a great training ground. The projects make them better problem-solvers, innovators, and leaders," says Liggio. "Students learn to create new ideas and think on their feet— that's what they'll need to be successful."