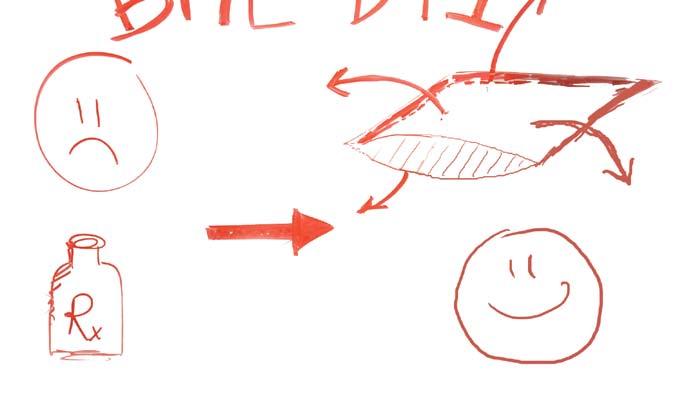 Good things, it is said, come in small packages. Someday that may be especially true if you are facing surgery.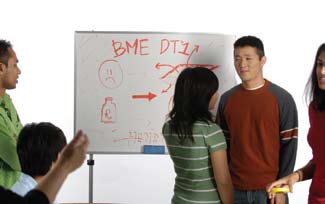 Each year, more than 3 million laparoscopic surgeries are performed in the U.S., encompassing procedures ranging from coronary artery bypass surgery to gall bladder removal. In most of these operations, the surgical incision required is very small—less than an inch in length. Typically, these minimally invasive surgeries require little or no post-operative hospitalization, and many are performed on an outpatient basis. But even small cuts can hurt a lot, so doctors prescribe systemic oral narcotics for incisional pain.
Doping the whole body to relieve pain in one small location is hardly ideal, however. Side effects of the systemic opiates typically used include nausea, constipation, and temporary dementia, and can sometimes result in extended hospitalizations. With all the advantages of micro-surgery, might there not be a manner of introducing micro pain control as well?
Eight biomedical engineering undergraduates set out to find the answer. Henry Chang, Dhanya Rangaraj, Meet Patel, Vincent Wu, Joseph Wood, Hyun-sun Seo, Shaoi Zhang, and Alice Wu report that there is currently no available technology to deliver extremely focused, localized pain relief for patients of minimally invasive surgery. "We think that the greatest end benefit might be to save additional lives through the increased use of endoscopic exploratory surgery," says Rangaraj, noting that current post-operative pain management issues may inhibit use of the procedure.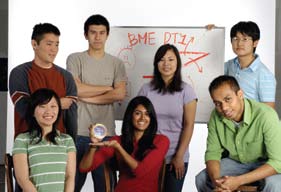 The team came up with a novel approach: a postage stamp-sized envelope containing local anesthetic, anti-inflammatory agents, and growth factors impregnated in a commercially available biologic matrix made from the small intestine sub mucosa of pigs. At the end of a procedure the packets are slipped into the existing incision just before suturing. The matrix gradually releases the drugs over time as it is absorbed into the wound, promoting healing and providing round-the-clock pain relief in the process. The design is simple and elegant enough for the group (aided by faculty advisor Malcolm Lloyd '94, a physician and CEO and founder of Device Evolutions, a medical device company) to file a provisional patent application.
"The great thing about this approach is that it potentially offers a way to control postoperative pain without side effects," Rangaraj says. "We had to find novel ways to bind the drugs to the matrix material, and we kept refining the way to fold up and seal the implant. It evolved over the year we were working on it, but in the end we settled on this technology we think has great potential."