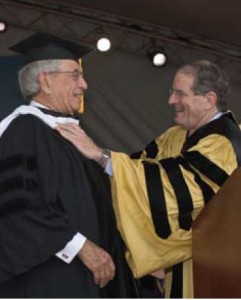 Robert Fischell, widely recognized as the father of modern medical stents, lifetime pacemaker batteries, and implantable insulin pumps, was presented with the Doctor of Humane Letters at Hopkins Commencement ceremonies on May 22. The honorary degree, presented by President William R. Brody, recognizes Fischell's extraordinary contributions to society through his many medical device inventions, generous support to biomedical engineering education, and medical research.
Before embarking on a 38-year career with the Johns Hopkins Applied Physics Laboratory (APL) as a space scientist and medical device inventor, Fischell earned his bachelor's degree in mechanical engineering from Duke University and a master's in physics from the University of Maryland. During his career, he has been recognized with a U.S. Inventor of the Year Award and induction into the Space and Technology Hall of Fame as well as the National Academy of Engineering. Fischell now holds over 200 patents.
Throughout his lifetime, Fischell has founded several medical device companies including NeuroPace, which is developing a new implantable device for ending epileptic seizures and NeuraLive, which is developing a magnetic pulse device to stop migraine headaches. Another of his companies, Angel Medical Systems Inc. (named by his grand- daughter), has developed a pacemaker-sized implantable computer that provides the earliest possible warning of an impending heart attack.
Fischell's passion for medical devices prompted him, this past May 6, to serve as a judge for the Department of Biomedical Engineering's annual Design Day, held at the Johns Hopkins medical campus. Fischell is slated to present the keynote lecture at next year's design day on Monday, May 4, 2009, at the Homewood campus.