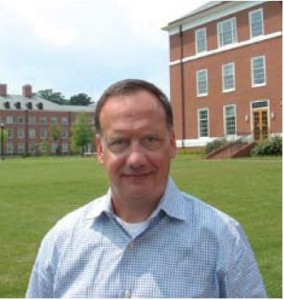 Nurturing emerging technology into the marketplace is something Anton "Tony" Dahbura '81, MS '82, PhD '84, knows more than a little about. He spent 15 years in basic research at AT&T Bell Labs and ran Motorola's research center, where he developed software for massively parallel supercomputers. In the mid-1990s, he joined Hub Labels, Inc, his family's commercial printing company in Hagerstown, Maryland, and today he holds the title of corporate vice president.
With his solid background in both research and business, Dahbura has led the National Advisory Council's (NAC) Committee on Technology Transfer Management since the committee's inception in October 2005. The Tech Transfer committee is advising Hopkins on the process of technology transfer, a process Dahbura says has been evolving over the past few years at Hopkins. "Knowledge is best when it is used," he says. "Johns Hopkins' mission of 'knowledge for the world' guides the work of our committee, but getting the technology to market is only one aspect. Getting the technology used is the ultimate goal."
He and his eight committee members of alumni and friends represent venture capital, engineering, technology management, intellectual property law, and business. "Our mission is to understand the tech transfer process and identify primary challenges and opportunities at Hopkins," Dahbura explains, adding, "John Fini's appointment is a huge triumph for the process."
Fini, who joined the university last January as director of intellectual property for the Whiting School of Engineering and the Krieger School of Arts and Sciences, brings a wealth of experience in tech transfer—and great enthusiasm for the work of the NAC.
"There is great science going on here," says Fini. "It's very helpful to give the Whiting School an outside perspective on how we should be doing things better. You couldn't ask for a better honest-broker relationship. The ad hoc committee's interest is only to make sure that we're doing a good job and could do things better."
Working closely with Fini, the ad hoc committee meets three to four times a year to advise Hopkins on the development of a per- manent tech transfer infrastructure. This infra- structure will include a committee to evaluate the commercial viability of faculty-driven emerging technology, and to offer recommendations on next steps.
"We had a pilot session where a few faculty members presented their research, and we gave them feedback, which is something we want to do more of in the future," says Dahbura.
"Even to play a small role in some idea that was created at Hopkins and makes its way into the world and has some small benefit is one of the best things that I could do."