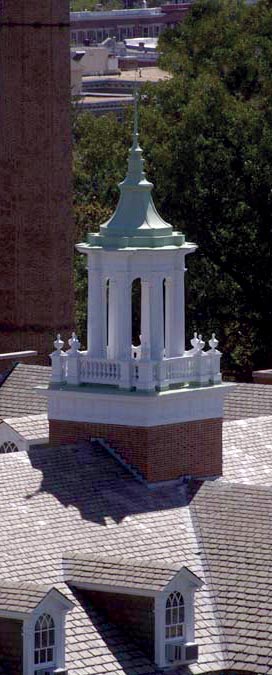 "I cannot overestimate the value of the guidance and support I receive from this devoted group of alumni and friends. They are leaders in their fields and the wisdom and perspective they bring to the table help us define where we are taking the Whiting School. " Nick Jones, Dean
The National Advisory Council (NAC) is a group of alumni and friends of the Whiting School who bring important insights and expertise to assist the dean and the school. The NAC was founded in 1982, just a short time after the re-establishment of the engineering school as a separate entity at Johns Hopkins—the Whiting School of Engineering. The council's goals are to provide candid and constructive advice on key issues, serve as an advocacy arm of the school to industry and government, and help increase the school's philanthropic resources and support. Over the past two decades, the NAC has realigned its focus and efforts to support the school's changing needs as the Whiting School's reputation as a leading engineering school has grown. There are currently 31 members of the NAC, representing industry, government, and academia, who serve renewable three-year terms and meet twice a year.
Under the leadership of chair Bill Ward '67, the NAC has been restructured and re-energized, including the formation of an Executive Committee that assists the school on a wide range of issues. A Dean's Leadership Fund and a series of ad hoc committees were also established to best use the talents of its members.
It was in the fall of 2004 that the ad hoc committee structure was formed.These committees are led by NAC members and provide feedback on specific issues that are pertinent to the dean and the Whiting School. Ad hocs are created each fall, work with the school's faculty and administrators over the course of the year, and report their findings at the spring NAC meeting. Committee chairs are selected by the dean and the chair of the NAC. Three ad hoc committees—Technology Transfer Management, International Programs, and Master's Degree Programs—completed their work this fall and submitted their recommendations to the dean.
At a previous meeting, Campaign Co-chairs Gil Decker '58, Bill Ward, and Kwok Li '79 announced their own commitments to launch the Dean's Leadership Fund. By May of 2006, over $700,000 had been pledged to the fund to provide the dean with "academic venture capital," allowing him to respond quickly to strategic opportunities as they present themselves, pursue innovative new programs and ventures, and reward excellence.
"I am frequently approached by faculty members who have exciting and promising new ideas that require seed investment to get off the ground," states Dean Jones. "We need to be able to take calculated risks and invest in these start-up academic ventures to make the big advances in research and technology that we know are possible."