Distinguished Alumnus Award
Established in 1978, this award honors alumni who have typified the Johns Hopkins tradition of excellence and brought credit to the University through their personal accomplishments, professional achievement, or humanitarian service. The following three Whiting School of Engineering alumni were honored in 2005.
William "Bill" R. Bowles '60

retired in 1999 from his distinguished 40 year career at IBM, where he was vice chairman and president of IBM Greater China Group. While in Beijing for four years, he oversaw the company's strategy, technology, manufacturing, and development, as well as all of its investments in China. Among other accomplishments at IBM, Bowles started and managed its worldwide equipment manufacturing business (which now brings in $12 billion in revenue) and was vice president of operations for Asia Pacific, South America, and Canada.
An Electrical Engineering major at Johns Hopkins, Bowles today serves on the Whiting School's National Advisory Council and previously served on the Society of Engineering Alumni Council. In 1999, he established the Gordon L. and Beatrice C. Bowles Fellowship in the Whiting School in memory of his parents. He is an active member of the Alumni Council of the Johns Hopkins Alumni Association and volunteered on the committees for his class's 40th and 45th reunions.
Involved with the Chesapeake Bay Foundation, the Maryland Science Center, and Avalon Foundation, Bowles also is a director of Minolta-QMS, Inc. and a member of the advisory boards of Trusted Edge, Inc. and MercuryGate International.
L. Gordon Croft '56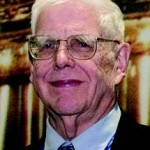 is a principal of Croft- Leominster Investment Management in Baltimore, the firm he founded with his sons, Kent and Russell, in 1989. Previously, Croft had a successful 22-year career with T. Rowe Price. Earlier, pursuing the interests he developed as an Engineering major at Johns Hopkins, he was associate director of R&D at the Naval Propellant Plant in Indian Head, Maryland.
At The George Washington University, Croft earned a master's degree in engineering. He completed doctoral coursework in finance at Indiana University.
To benefit students from Maryland, Croft endowed 10 tuition scholarships at Hopkins and four other schools. Recently, he established the Frederick S. Billig—L. Gordon Croft Endowed Lectureship at Johns Hopkins, which will attract experts in mechanical engineering, chemical and biomolecular engineering, and entrepreneurship and management.
Croft's love for higher education also led to his part in creating the January Intersession class on Educating for Technological Leadership—Financial Strategies. This innovative offering became the basis for a very popular minor, Entrepreneurship and Management, which has evolved into the Whiting School's Center for Leadership Education.
F. Suzanne Jenniches '79 MSE,

as vice president and general manager for Northrop Grumman's Government Systems Division, oversees the strategic development of a sector-wide defense communications business. Her responsibilities also include Xetron Corporation in Cincinnati; Park Air Ltd., in Peterborough, England; the Annapolis Junction, Maryland, site of California Microwave; and NAVIA Aviation in Oslo, Norway.
After earning a BS degree from Clarion State College in 1970, Jenniches taught high school biology while earning her master's degree in Environmental Engineering in the evenings at Johns Hopkins. She also completed post-graduate work in international affairs at The Catholic University of America.
Joining Northrop Grumman in 1974, Jenniches became a leader in manufacturing innovation and producibility engineering. In 1981, she led operations for the B-1B bomber offensive radar. Other career highlights there include establishing the division that developed mail processing and package handling equipment for the U.S. Postal Service and the Small Package Sort System for FedEx.
In 1983 the National Society of Women Engineers (SWE) named Jenniches a Distinguished New Engineer. She guided SWE as president in 1988-89. In 2000, SWE honored her with its Achievement Award for the standards she set in producibility engineering.
An active volunteer for the Whiting School, Jenniches is a member of the National Advisory Council, has been a Career Night panelist for the Society of Engineering Alumni, and recently chaired the Engineering Programs for Professionals' Advisory Board. She serves on the Alumni Council of the Johns Hopkins Alumni Association.
A member of the U.S. Army Science Board and the National Research Council Committee on Commercial/Military Integration, Jenniches is a director of MICROS, Inc.