Through his almost 70 years with the prominent building contracting company of Whiting-Turner, Willard Hackerman '38 has been reinforcing a commitment to his alma mater.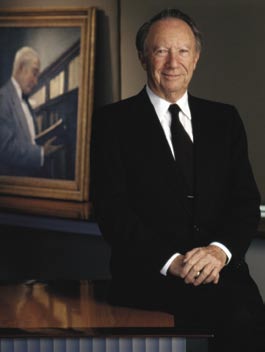 When 19-year-old Willard Hackerman set out for one of his first engineering jobs, the entire staff of The Whiting-Turner Contracting Company—all three of them—packed up and moved from Baltimore to Cambridge, Maryland, to build an $187,000 drawbridge. "We were lucky to get it," Hackerman says of the job.
It was 1938. Fresh out of the School of Engineering at The Johns Hopkins University, Hackerman was drawing a salary of $35 a week. Today, the alumnus is the president, CEO, and sole stockholder of The Whiting-Turner Contracting Company, one of the nation's largest building contracting companies with some 1,000 engineers in 23 offices around the country. Work is no longer scarce. These days, he says, the Marylandbased company has a $4 billion project backlog.
Over the past almost seven decades, five of them under Hackerman's leadership, Whiting- Turner's portfolio has expanded from bridges to include some of America's most prominent shopping malls, elegant embassies, hightech cleanrooms, and well-known landmarks. In Baltimore, these projects include the National Aquarium, M&T Bank Stadium, the Meyerhoff Symphony Hall, and Harborplace. At the Homewood campus, Whiting-Turner is managing construction for the Decker Quadrangle (see page 12). The company also has erected the Bloomberg Center and the Ralph S. O'Connor Recreation Center, renovated Homewood Apartments, and has built or remodeled many other projects at Hopkins.
While Hackerman's leadership extends beyond the business world, in his hometown, he also is known as a philanthropist dedicated to higher education and the arts. He traces it all back to his engineering background. "Engineers are problem solvers," he says. "They have the attitude, the training, and the ability to solve problems."
The only child of a homemaker and a factory manager, Hackerman grew up in Baltimore's Forest Park neighborhood. At Baltimore Polytechnic Institute, a public high school known for its engineering program, Hackerman took the courses to enter a university engineering program at an advanced level. After graduating from Poly in 1935 at age 16, Hackerman enrolled at Hopkins, where he convinced the registrar to let him pay the $450 annual tuition in monthly installments.
At age 19, Hackerman had a Hopkins degree in Civil Engineering. Soon Hopkins called, looking for Engineering graduates who could interview at Whiting- Turner. Hackerman was hired. For years, he worked under G.W.C. Whiting, the company's co-founder who had begun the business in 1909 with LeBaron Turner, a classmate from the Massachusetts Institute of Technology. Whiting in 1910 bought out his partner and led the company until 1955, when he chose the 37-year-old Hackerman to succeed him.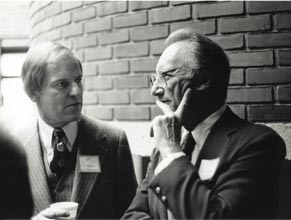 Hackerman still beams as he talks about that bridge he built in Cambridge. Business was tough back then, he says. The company was small—just Hackerman, Whiting, and a third engineer. They handled one project at a time, when they could find work, all pitching in on-site. "I worked with my hands for the better part of 12 years," Hackerman says.
These days, Hackerman, 87, still works directly on some of Whiting-Turner's projects and also develops real estate. He is now involved in the Metro Center at Owings Mills, a $220-million mixed-use site that will include a community college building, public library, restaurants, retail and office space, apartments, and a hotel.
As Whiting-Turner continues to grow and take on more highprofile projects, Hackerman still draws deeply from the lessons of his mentor, whose oil portrait is displayed near his desk in his spacious Towson office.
Hackerman credits the firm's success to Whiting's strategy of hiring engineers to fill as many company roles as possible, including project managers and supervisors. He believes Whiting- Turner employs more engineers than any other company of its size, and was the first to use engineers in construction. "That is the main reason the company is what it is," Hackerman says. "All the leaders are engineers." Whiting-Turner's staff includes many Hopkins engineers, says Hackerman.
Now a Hopkins trustee emeritus, he served the university for nearly 40 years and led the effort to re-establish the School of Engineering in 1979. Hackerman was instrumental in seeing that half of his mentor's estate went to Engineering after Whiting died in 1974. The new school was named in Whiting's memory. Margaret Whiting, after her husband's death, also endowed the Willard and Lillian Hackerman Chair in Civil Engineering.
Since then, Hackerman has supported the Whiting School in many ways, most recently with a $5 million commitment, recognized in the naming of the Hackerman Scholars to bring more students from Poly to study at Hopkins. The gift "assures we're attracting exceptional individuals who live right here in our city," noted Nicholas P. Jones, dean of the Whiting School. In addition, undergraduate Engineering students benefit from the Hackerman Engineering Student Loan Fund that had been created by the couple.
"Engineers have the attitude, the training, and the ability to solve problems." Willard Hackerman '38
At Hopkins, the Hackerman name is a familiar one across the institution. In the School of Medicine, the couple endowed the Willard and Lillian Hackerman Chair in Radiation Oncology. Another gift helped create the Hackerman-Patz Patient and Family Pavilion at the Sidney Kimmel Comprehensive Cancer Center, a 50-guest residence that serves patients undergoing cancer treatment and their families.
"Will's vision and generosity have made an immeasurable contribution to the success of the Whiting School and to all of Johns Hopkins," noted William R. Brody, University president. "We are tremendously grateful for all he has done for Hopkins, and especially proud to count him as one of our own."
The construction executive's wide-ranging civic endeavors extend well beyond Hopkins. Hackerman served on Maryland's first economic development council and first higher education commission, and sits on the boards of the University of Maryland School of Medicine, the Maryland Science Center, and the Baltimore Symphony Orchestra. As dedicated patrons of the arts, the Hackermans purchased a 19th-century Mt. Vernon Place mansion for $800,000 in 1984 and promptly turned it over to the Walters Art Gallery. Now called the Hackerman House, it is home to the Walters Art Museum's Asian art collection.
As he sits in his office, 67 years after that three-man firm built a drawbridge, Willard Hackerman is satisfied, but still forward-focused. "I'm working harder now than I ever did in my life."