For Aris Melissaratos '66, experience as a Westinghouse executive, an entrepreneur, and a community advocate have all helped prepare him for his latest role: leading the state's economic development.
"We are continually enhancing our image as a research state, a knowledge economy. And Johns Hopkins plays a significant role in that picture." –Aris Melissaratos '66
"It's the perfect job to cap my career," said Aris Melissaratos '66, who since January 2003 has taken charge as secretary of Maryland's Department of Business and Economic Development. He heads an impressive array of aggressive initiatives to strengthen the state's economy and its attractiveness to all sectors, especially business, industry, research, technology, trade, film, the arts, and tourism.
"Maryland has everything!" Melissaratos says with a certain degree of pride. "We have the infrastructure, the skilled workforce, the research and educational institutions, and the entrepreneurial drive to complete in today's global marketplace. Our strategy for a successful Maryland economy has focused on the transformation from the old manufacturing economy to the knowledge-based economy."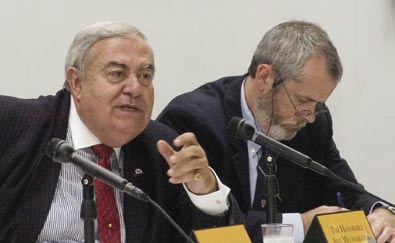 This successful strategy is reflected in the economic growth and stability that Maryland has experienced over the last few years. During his tenure as secretary of Business Development, Maryland has added 50,000 jobs a year, and stands to add more than 10,000 new jobs through the recently announced national consolidation of military facilities.
One of Maryland's greatest strengths, Melissaratos points out, is the state's intellectual resources, among them more than 50 major federal research labs and an additional 150 research centers. "Maryland has so much intellectual brainpower!," he says. "We are continually enhancing our image as a research state, a knowledge economy. And Johns Hopkins plays a significant role in that picture."
A review of his career suggests that Melissaratos might have been preparing for this position all his life.
At Johns Hopkins, he earned his bachelor's degree in Electrical Engineering in 1966. "Hopkins gave me a good, sound, fundamental education, strengthening my thought processes," he relates. "It gave me the ability to make right assumptions and calculations so important in decision-making. This training was invaluable."
He earned a master's degree in engineering management from George Washington University, and later completed Harvard University's Program for Management Development. He also has finished coursework toward a doctorate in international politics at the Catholic University of America.
In 1997, Melissaratos retired from Westinghouse, where in his 32 years he was instrumental in shaping its national leadership in defense electronics. While in Baltimore, he was vice president and general manager of the Design Engineering and Manufacturing Operations Divisions of the Baltimore Electronics Systems Group (now Northrop Grumman Electronic Systems). At corporate headquarters in Pittsburgh, he retired as vice president of science and technology and chief technology officer.
Post-retirement, he's been equally energetic, beginning as corporate vice president for Thermo Electron Corporation in Waltham, Massachusetts, and president and CEO of Coleman Research Corporation and Thermo Coleman Corporation. To boost funding and strategic direction for high-tech start-ups, he founded Armel Private Equity Investments.
Throughout his corporate career, Melissaratos has been exceptionally active as a community advocate, which he says also prepared him well for his current role.
In Maryland, his service includes being a board member of the Greater Baltimore Alliance, the Technology Council of Maryland, and Emerging Technology Centers. He is founding co-chair of the Greater Baltimore Technology Council, past vice president of the Maryland Chamber of Commerce, past chair of the Maryland Manufacturing Association, and past member of the Board of Visitors of the University of Maryland.
Melissaratos, who has been on the Whiting School's National Advisory Council since 1996, is pleased with the direction the School has been taking. "Each dean has moved the School a step forward," he notes. He especially applauds Engineering's interdisciplinary initiatives, among them the Institute for NanoBioTechnology.
Biotechnology is a far cry from the blue-collar Baltimore where Melissaratos had worked in his father's bakery while studying at Hopkins (the family emigrated from Romania and Greece when he was 13). To help make it possible for today's Baltimore students to study engineering, in 1999 he established the Melissaratos Family Scholarship Fund, honoring his parents. Helping students is one more way he strives to assure that Maryland's future is a high-tech, global one.
Visit the state's Department of Business and Economic Development at www.choosemaryland.org.