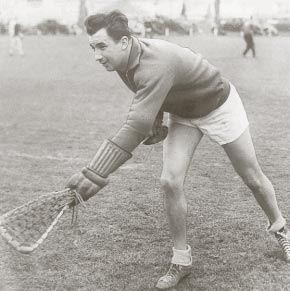 Lorne Guild '32 remembers his years as an electrical engineering major as "working in the lab mornings and afternoons, then again on Saturday mornings. Then I would go play lacrosse." And how he played! Guild was a three-time All-American, and twice named to the First Team (in 1931 and 1932). He played on the 1932 National Cham– pionship team and on the Blue Jays team that bested Canada for a Gold Medal in the 1932 Summer Olympics, a game that attracted an astounding crowd of 80,000 in Los Angeles. "Those were great years," he reminisces. "Playing lacrosse meant getting out in front of a crowd. You felt like you were out there participating in something."
Graduating from college at the beginning of the Depression was "tough," notes Guild. "It was almost impossible to get a job… but the University helped me. First, I worked in Washington holding a red flag over a manhole while another man spliced cables. That was something!" During his career spanning more than 40 years, Guild worked for Potomac Electric Power Co., Baltimore Gas & Electric Company, Koppers Company, and Western Electric Co. He retired from Western Electric as senior staff engineer.
For seven decades, Guild has maintained his close ties with Hopkins as a volunteer and contributor, and he attends alumni dinners "at least once a year," he says. "I donate money [to the Engineering school] every year because I received a scholarship, and a free education. I feel obligated to help others have the same experience." A long-time class agent, the Whiting Legacy Circle member has made a provision in his estate plans for a generous scholarship in his name that will permanently benefit future Engineering students.
The legend of Guild's lacrosse prowess is still in play. In 1967, he was inducted into the National Lacrosse Hall of Fame. He's a member of the Alltime Johns Hopkins Lacrosse team. And this October, he became part of the Class of 2002 inducted into the Johns Hopkins Athletic Hall of Fame.