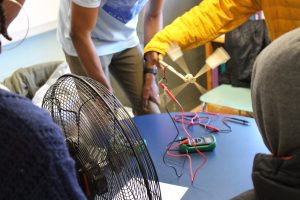 This past Friday, the Department of Electrical and Computer Engineering Graduate Student Association celebrated National Engineers Week by spending some time with middle school students at the Barclay Elementary/Middle School.
Two separate groups of ECE GSA students – one in the morning and one in the afternoon – made the quick walk from the Homewood Campus to oversee a wind turbine creation contest with different classes. The hope for the exercise was to get the young students excited about electrical and computer engineering.
"As a doctorate student at such a prestigious university, I personally feel compelled to use my education to teach, protect, and serve underrepresented communities," ECE GSA Social President Naresh Nandakumar said. "I am indebted to show every child I teach that, if they want to, they are more than capable of graduating high school, college, and even graduate programs. Organizing events like the wind turbine exercise at Barclay on Friday help me achieve my goal."
This will not be the two groups final involvement with each other, as the ECE GSA plans to host a group of Barclay Elementary/Middle School students at the Homewood Campus sometime in May.