LINDT Update: Team Sepsis Detection reaches milestone two, and the Electric Jays enjoy their first field test
November 21, 2019
Team Sepsis Detection, a group formed within associate research professor
Charbel Rizk
's
Learning Innovation Design Team
(LINDT) class, just completed its second milestone. The photo below shows the group demonstrating the various methods of collecting the vital signs on Dr. Jim Fackler, a collaborator and also the project sponsor. Once the group gets IRB approval, the team will be collecting similar data from the campus clinic.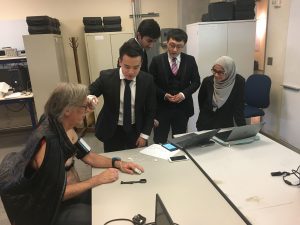 The Electric Jays, another LINDT group, had their first field test earlier this week.
The group went to an indoor race track with electric go-karts, similar to the one they're building. They collected good data and experience to jump start their design efforts, as it will take a bit of time before their vehicle is ready for testing.
Beyond that though, the outing also served to build more team spirit. Check the photos and video below to see the team members going full speed in a race.