Program Date: Thurs. Oct. 19 through Sat. Oct. 21, 2023
Johns Hopkins School of Engineering is excited to host the seventh annual Explore Hopkins (EHOP) Weekend! EHOP is an all-expense paid opportunity to learn more about our doctoral programs.
Join us for what will be an engaging experience, including graduate admissions workshops, network opportunities with our world-class faculty, and conversations with current graduate students. Visits to labs for hands experiences and observation of cutting-edge research.
We look forward to sharing what Johns Hopkins Engineering and the Baltimore community has to offer you!
APPLICATION DEADLINE IS EXTENDED. EMAIL [email protected] FOR MORE INFORMATION.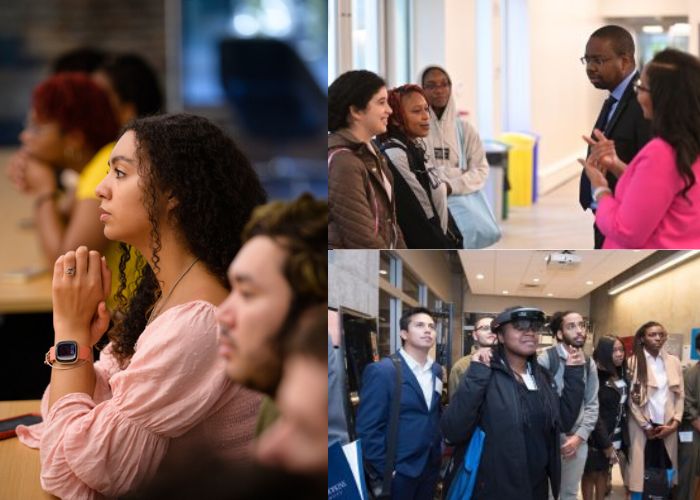 Mission
In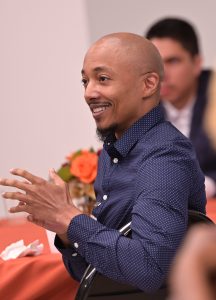 alignment with our mission of discovery and knowledge creation, we seek to recruit exceptionally talented graduate students who bring unique experiences and perspectives that are essential to fostering a vibrant, cutting-edge intellectual community. The goal of Explore Hopkins is to encourage students from underrepresented backgrounds and experiences to pursue doctoral degrees at Whiting by showcasing the quality and strengths of our programs and resources.
Program Highlights
Gain expert insight on the graduate application process, admission, and fellowship/funding opportunities
Learn more about research opportunities and interdisciplinary programs/centers
Engage and network with program directors, faculty, and current graduate students in the Whiting School of Engineering
Participate in customized tours of the campus and state-of-the-art research facilities and labs
Experience all that the Baltimore community has to offer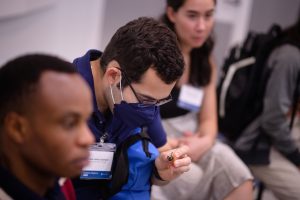 Eligibility Requirements
Strong academic background with a minimum undergraduate GPA of 3.5
Applications are particularly encouraged from students who are first-generation college students, Black/African Americans, Latino/Chicano Americans, Native Americans, and Pacific Islanders.
Must be interested in graduate programs in the Whiting School of Engineering
Preference will be given to juniors and seniors.
Applied Math and Statistics
Biomedical Engineering
Chemical and Biomolecular Engineering
Civil and Systems Engineering
Computer Science
Doctor of Engineering
Electrical and Computer Engineering
Geography and Environmental Engineering
Materials Science and Engineering
Mechanical Engineering
EHOP Frequently Asked Questions
Participants will dedicate their time during this visit to engage with Engineering faculty, current students and peers attending the event. There will be lab and campus tours, a variety of seminars including a session on applying to graduate school, and engaging dinners with peers and faculty. A full schedule will be provided once pariticipants are accepted.
The Engineering school will cover the cost of hotel, meals and transportation.
Each student is responsible for contacting our Hopkins Travel Team to arrange your specific travel arrangements. Participants will receive detailed instructions on how to arrange travel.
The EHOP team will provide a Lyft expense for participants to use.
Plan to arrive to Baltimore at 10:00 a.m. on the Thursday date of the event.
Plan to share a double occupancy room with an EHOP participant. Room assignments are made based on disclosed gender, school and research interests. Please contact us if special considerations are needed.
Unfortunately, we do not encourage that you bring guest due to the programming and schedule of events.
Plan to depart Baltimore at 11:00 a.m.on the Saturday date of the event, just after hotel check out.
Your lodging is covered for two nights during the event, Thursday and Friday. You are responsible for incidentials to your room upon check out.
We advise business casual with comfortable shoes. Also consider wearing business casual collegiate gear to represent your college or university.