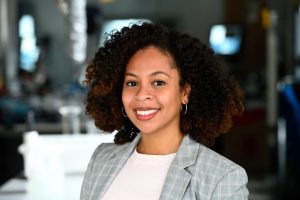 Gina Greenidge, candidate for PhD in Materials Science and Engineering, has been inducted in the 2021 class of the Edward A. Bouchet Graduate Honor Society.
Named for the first African American in the United States to received a PhD, the society seeks to develop a network of pre-eminent scholars who exemplify academic and personal excellence, foster environments of support, and serve as examples of scholarship, leadership, character, service, and advocacy for students who traditionally have been underrepresented in higher education.
In her time at JHU, Greenidge served as a student member of the Doctor of Philosophy Board and as a member of the Diversity Leadership Council where she advocated de-emphasizing the GRE as an admissions standard to increase diversity in the graduate student body. With a passion for sharing science with students underrepresented in STEM, Greenidge served as a Materials Research Society mentor and volunteered for Center for Educational Outreach events.
Advised by Jonah Erlebacher, Greenidge's research focused on the development of novel metallurgical techniques to synthesize nanostructured carbon materials and she will be graduating this spring.
"I am thrilled and honored to be a member of the esteemed Bouchet Society," said Greenidge. "I am grateful for the support of my advisor, the members of the DLC, especially Dr. Balázs P. Vágvölgyi, and Drs. Nancy Kass and Julie Nadel from the Office of the Provost."
Read about the other 2021 inductees to the Bouchet Society here.