Everything is made of something.
But what, exactly? And why, and how? Materials scientists and engineers design, synthesize, and investigate the stuff that stuff is made of, from phones to planes to people. We seek to understand how the properties of a material — how strong it is, for example — emerge from its structure, from the atomic scale up. We then apply engineering principles to develop new processes for making advanced materials with revolutionary properties. Every branch of science and engineering uses our work to make the things that make the world go, from developing sustainable energy sources to healing wounds to exploring outer space. As a rapidly growing, deeply interdisciplinary and highly collaborative field, materials science and engineering is not only a basic tool in every engineer's kit, it's a degree that opens doors.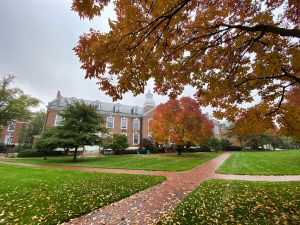 With a history of materials research at Hopkins spanning more than a century, our faculty continue to redefine the field, through innovations in fabricating nanostructures, leveraging artificial intelligence and data science to discover new materials, and pushing the boundary of knowledge by peering at the structure of materials at the atomic scale using the most advanced characterization tools available. They help advance materials research at JHU through collaboration and leadership in centers such as the Materials Characterization and Processing Facility (MCP) and the Materials Science in Extreme Environments University Research Alliance (MSEE), the Institute for NanoBioTechnology (INBT), the Hopkins Extreme Materials Institute (HEMI), and the Ralph S. O'Connor Sustainable Energy Institute (ROSEI).
Our undergraduate program emphasizes a deep grounding in fundamental aspects of materials spanning metals, ceramics, semiconductors, and biomaterials. Research is in our DNA, and all of our undergraduates have the opportunity to work one-on-one and in small groups with our faculty to tackle some of the world's most pressing problems. Our graduate students work in interdisciplinary collaborations across the university (including the School of Medicine and the JHU Applied Physics Laboratory) as well as with industry and national laboratories. All of our students benefit from a close-knit, collegial community that supports students preparing for life after graduation, which might include professional studies or a broad range of careers in industry, academia, government, business, or the nonprofit sector.
14

Average Undergrad Class Size

Become a member of our close-knit community and have built-in support as an undergrad, master's or PhD student. Learn More.

6

Areas of Research

From biomaterials to structural materials, find an area of research that interests you most. Learn More.

13

Cutting Edge Facilities

Access world-class, interdisciplinary research facilities from Materials Characterization Processing to manufacturing. Learn More.