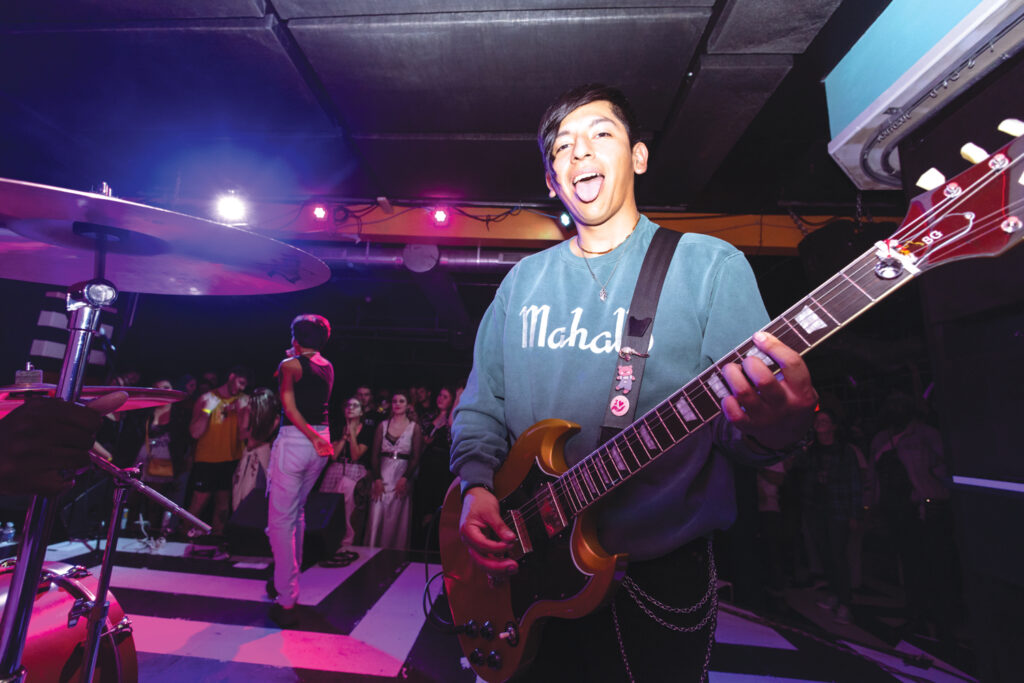 When Paul Vallejo '19, MS '22, first talked with fellow Hopkins undergrad Ashrita Kumar about forming a band in 2018, he expected music to be a hobby between classes. Five years later, their band Pinkshift has a studio album listed in entertainment magazine Paste's best punk albums of 2022, and they're striking out on their second cross-country tour.
A chemical and biomolecular engineering major, Vallejo met Kumar through Homewood United for Music, a student group that connects musicians through events. Finding they shared musical tastes, they collaborated on cover songs before moving on to original music.
"At a certain point, we were like, 'Wow, we have six or seven songs here. We should probably start a band,'" he says.
They enlisted fellow undergrad Myron Houngbedji as their drummer after staking out the Mattin Center's drum room, and together played at any student event that would take a punk act—from the Mattin Center's Halloween party to the Inter-Asian Council's Disco Night. By the time Vallejo and Kumar entered their master's programs, Pinkshift was playing shows in Baltimore and D.C.
Although members of the band loved performing together, Vallejo admits that they expected to go their separate ways after graduation.
Then in summer of 2020, Pinkshift's new song, "i'm gonna tell my therapist on you," went viral, resulting in opportunities to open for more popular bands on tour: an offer the trio felt it could not pass up.
"We are all children of immigrants and grew up with financial sustainability as the key goal. None of us could conceive of making a living off of our music," says Vallejo. "But gradually, we started considering it and looked for ways to make it work."
Vallejo took a remote job at a sustainability consultancy firm that was willing to be flexible. After two years, he says they've finally settled on a routine that allows him to turn in reports for clients on an intermittent schedule, granting him more time to record music and play shows with the band. Balancing the two careers has been hard work that's paying off.
"I always admired Ashrita and Myron for their strong work ethic in everything they do, whether in academics or music," he says of his bandmates. "Hopkins required that kind of perfectionism, and after graduation, none of that has changed for us."