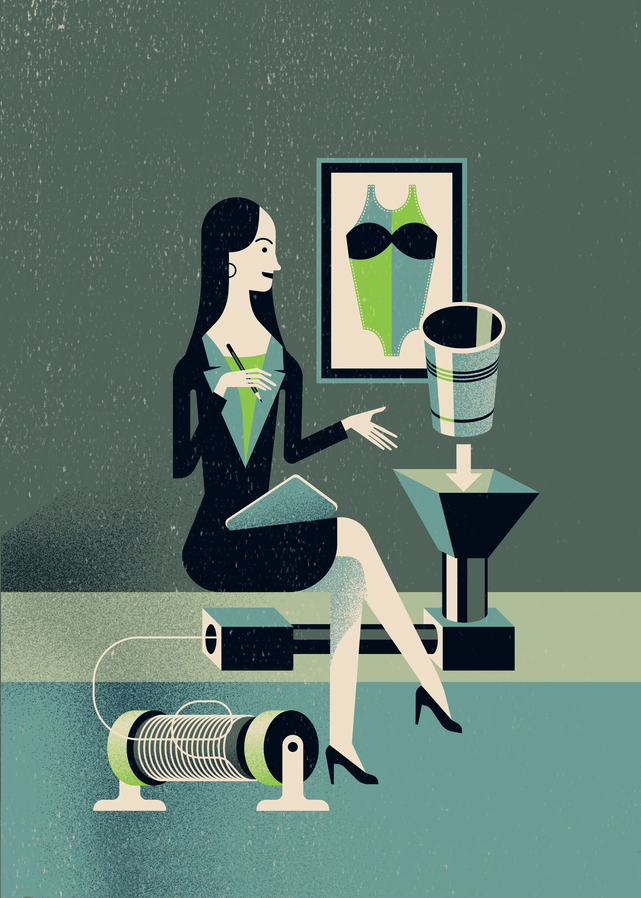 Every college student is familiar with the red Solo cup. For most, the plastic containers conjure up images of  parties, but when Lauren Choi spots one around campus, she thinks of something else entirely.
"I think, 'Oh my God. I have to pick it up and take it to the dishwasher!'" says Choi, a senior majoring in materials science and engineering.
This semester, she has collected and washed thousands of the single-use cups, with the goal of upcycling them into eco-conscious clothing. Her startup company, The New Norm, has recruited more than a dozen Johns Hopkins students to help with everything from marketing and fundraising to cup collection and hand-weaving fabric.
Choi's team is one of 16 groups from the Whiting School of Engineering to be selected into FastForward U's spring Accelerator program, which helps students from across Johns Hopkins bring their business ideas to life.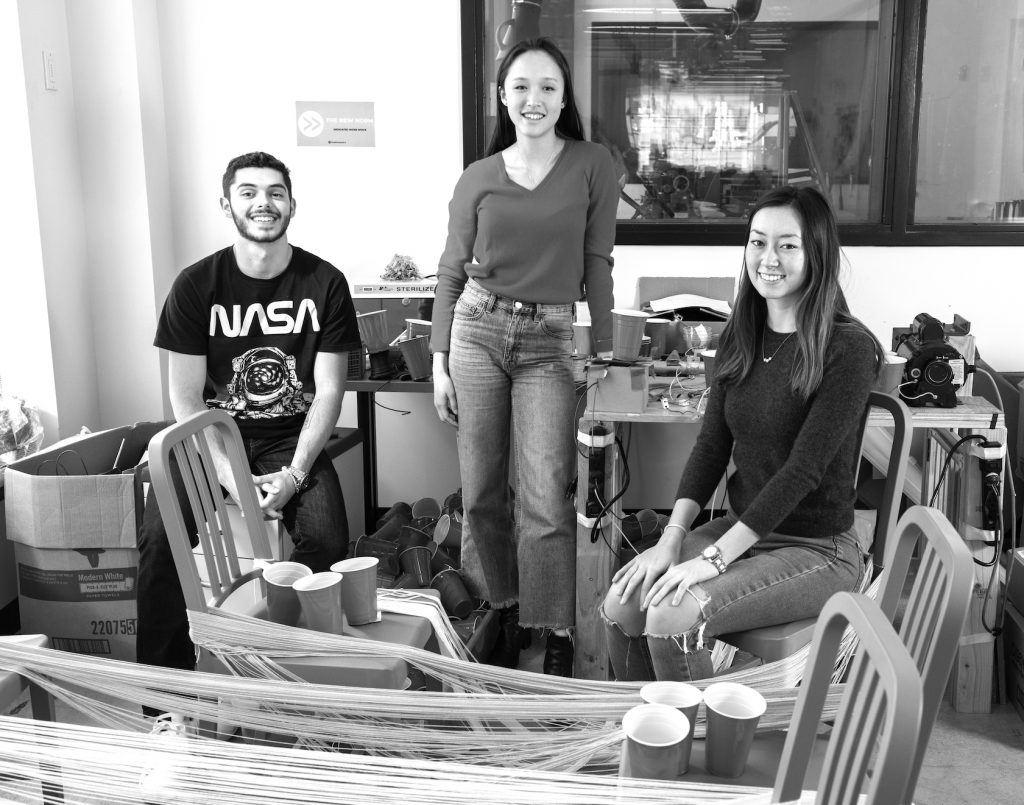 Located in a former factory building in Remington, near the Homewood campus, FastForward U features 10,000 square feet of space, including a 2,000-square-foot makerspace with high-tech tools for crafting, building, and engineering. The facility opened its doors to all students in 2018, but those accepted into the Accelerator program have the added benefit of one-on-one mentoring, educational sessions, and the opportunity to work alongside other student entrepreneurs.
"I love this space. It makes you feel like you're working on a startup," says Choi, who has a dedicated work area where she's installed a self-made extruder machine that turns pulverized Solo cups into filament for weaving. "It really gets you in the zone."
The Accelerator has two tracks: Spark is for early-stage companies looking to validate their idea, while Fuel is for teams seeking to grow and scale their ventures. In addition to a written application, prospective students are required to pitch their business idea before a panel of local entrepreneurs and FastForward U staff members. Teams that make the cut must show up twice a week for mentoring sessions and presentations by local entrepreneurs. This spring, 19 groups were chosen, with students representing schools across the university.
"Our job is really to help people learn entrepreneurial skills," says Kerrie Carden, director of student ventures for FastForward U. "Given the way startups work, these ventures may not make it all the way to market, but the skills students are learning are invaluable."
The nine-week program, which welcomed its first cohort in the fall of 2019, culminates in a Demo Day, where students pitch their polished business ideas. The Spark team with the winning pitch receives $1,000 and automatic placement into the Fuel Accelerator for the following semester, while the winning Fuel team receives $10,000. Win or lose, every team that successfully participates is guaranteed at least $1,000 in startup funding.
"Students here are not only passionate, they're really oriented toward having an impact. It's not just about creating a profitable business but about impacting people and the world positively," says Carden.
That's certainly true for Choi. She set her sights on minimizing plastic waste in 2018, when she read an article about China's recycling industry banning foreign shipments of single-use plastics. The move left the U.S. and Europe with a glut of trash—including plastic bottles, takeout containers, and straws—that could no longer be recycled. Turning the plastics into clothing seemed like a natural solution to Choi, who already had experience starting a small swimwear company with her sister in Los Angeles.
After experimenting with different types of plastic, she found that Solo cups were relatively easy to turn into filament due to their low melting point. The color of the cups, which come in blue as well as red, also made it possible to create vibrant fabric without the use of harmful dyes. Most importantly, there is an endless supply of raw material at Johns Hopkins and on college campuses nationwide.
"You go to a party, and you know there are going to be Solo cups," says Choi. "In my building, there was an event going on in another apartment. They had about 15 people over, and they gave us 70 cups." At the beginning of the semester, The New Norm scaled up its collection efforts by distributing bins to four organizations on campus, and it received about 1,000 cups within two weeks.
Choi, whose business was accepted into the Fuel Accelerator, wants to dedicate her time at FastForward U to improving the consistency of her plastic filament and working on a larger loom to speed up fabric production.
If all goes well, she hopes The New Norm can begin using its filament in a production loom capable of churning out thousands of yards of fabric. Then it could partner with an eco-conscious apparel brand to launch a collection of sustainable clothing.
"I've never taken a business class. I didn't know the meaning of pre-seed and seed funding until a couple days ago," admits Choi. "I am trying to do this after college, and I definitely don't think I can do it alone. That's why I'm excited for the Accelerator."
Cellular Analysis Technologies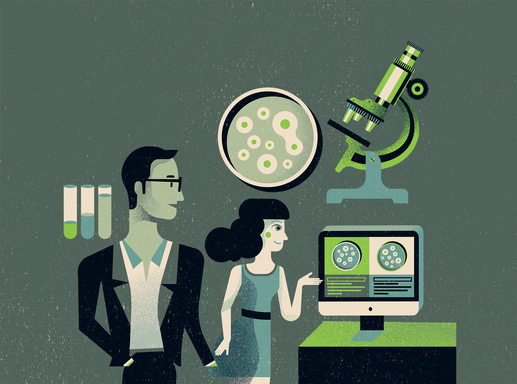 The founders of Cellular Analysis Technologies valued their time in the Accelerator so much, they're going through the program twice—first as a Spark team, and now as a Fuel team.
Christian Gonzalez, a junior majoring in biomedical engineering, came up with the idea for CAT while working in a tissue culture lab at Johns Hopkins' Institute for NanoBioTechnology during the summer of 2018. As a research assistant, much of his time was spent on the mundane task of counting cells by looking at photos of petri dishes. To Gonzalez, visually identifying cells felt like a time-consuming chore that could be done faster using data analysis software.
"I started searching for ways that I could improve it. I found some basic cell-counting algorithms online, but they weren't really designed for the images I was working with," he says.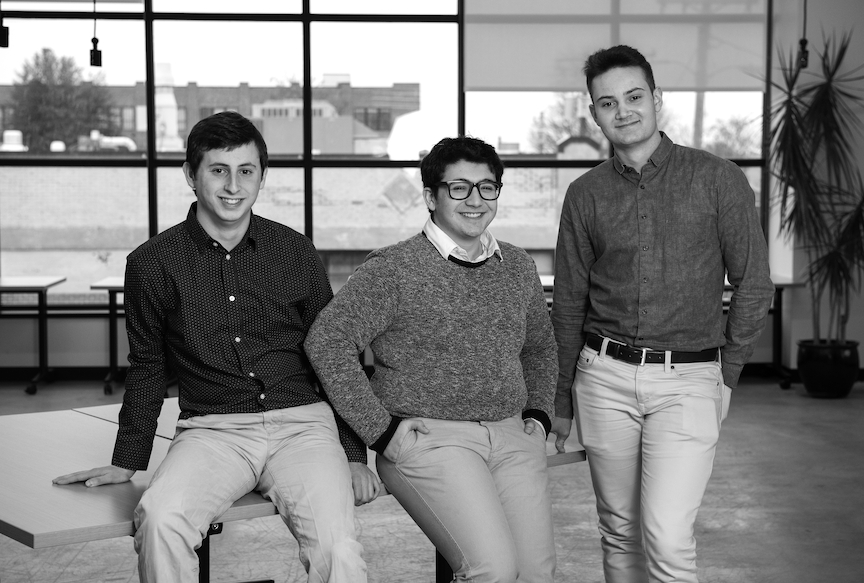 He asked his friend Robert Waxman, a senior studying biomedical engineering and computer science, to help him invent a software solution during HopHacks, the university's 36-hour biannual hackathon, but Waxman thought the idea could be something bigger.
"When I got to Hopkins, I knew I wanted to start something entrepreneurial, but I didn't know what it was going to be," says Waxman. Seeing a golden opportunity, he convinced Gonzalez to go into business with him, and CAT was born. A few months later, Marc Bordui, a senior studying chemical and biomolecular engineering, joined the team to help with marketing.
When they arrived for the Spark Accelerator in the fall of 2019, the group had little more than an idea and a bare-bones website. They were soon paired with an industry mentor and Nathan Buchbinder '15 from Proscia, a successful Philadelphia-based company that works on digital pathology software. Like CAT, Proscia was also founded by undergrads in the Whiting School. Over the next nine weeks, the students learned the ins and outs of customer segmentation, identified where their product fits in the market, built their first prototype algorithm, and learned how to manage a team.
CAT was also one of two student companies to win a $5,000 Microsoft Student Acceleration Grant, made available through a partnership with FastForward U. Designed to support artificial intelligence and data science startups, the award included up to $120,000 in cloud computing credits and the opportunity to work with architects and developers at Microsoft.
The team believes its cell-counting software has the potential to save researchers hundreds of hours per year, but to prove it, the team needs to conduct more tests. During the spring semester, the students planned on starting a pilot project with five to 10 users and hope to get Johns Hopkins professors on board.
"The advantage of being at Hopkins is that the cancer researchers are the most famous in the field," explains Waxman. "If we can convince them that this is a reliable tool to analyze their data, we can leverage that information to convince other researchers."
He says CAT's decision to participate in the Accelerator twice was less about gaining more business skills and more about community.
"When you're in the Accelerator, you're with all the other entrepreneurs on campus. You have a whole bunch of people rooting for you. Having that network is really important for us."
Graff Golf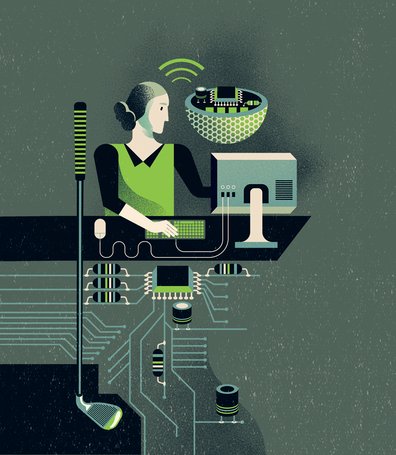 Another student startup that has thrived with help from FastForward U is Graff Golf. Founded by three Johns Hopkins football players, the company has designed a golf ball with an internal circuit board that collects data to help players improve their technique.
Graff Golf is planning to ship orders to its first customers this summer. But just 18 months ago, the team of undergrads barely knew where to begin.
"The hardest thing about launching a startup without any experience is just knowing what the first step is," says founder Aaron Shapiro, a second-year economics major.
He first thought of the idea to use technology to improve his golf game in seventh grade, when he discovered he was terrible at the sport. The concept stuck with him, and shortly after arriving at Johns Hopkins as a freshman, he began looking for ways to make his childhood dream a reality. Engineering and computer programming weren't his strong suits, so he asked two upperclassmen on the football team to go into business with him.
"It was definitely really daunting early on," says Mike Eberle, a senior majoring in computer science and the last co- founder to join the company. "And we're all pretty bad at golf."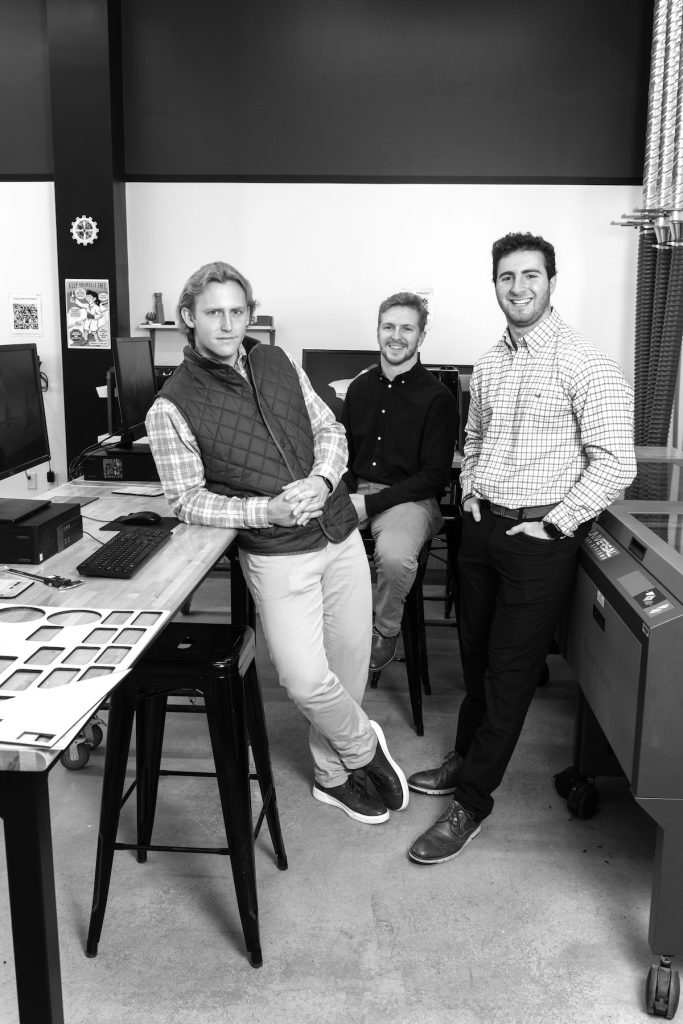 In the spring of 2019, they turned to FastForward U for guidance. The Accelerator program had yet to launch, but they were able to apply for a small Spark grant. From there, Kevin Carter, student program manager, took the team under his wing.
"We came in with literally just an idea and some words on some slides," says Shapiro. "I don't think we would have been able to start, or get the ball moving in any aspect, without Kevin and FastForward U being there."
Carter helped the team members refine their pitch and connected them with local alumni, some of whom decided to invest in the company. He also encouraged them to apply for the 2019 JHU Business Plan Competition, where they won a $6,000 grant. Like CAT, they went on to land a $5,000 Microsoft Student Acceleration Grant and up to $120,000 in cloud computing credits. Since then, the group has raised more than $150,000 through angel investors and online fundraising campaigns.
Their latest prototype ball is equipped with wireless charging and Bluetooth technology that transmits metrics like spin rate, distance, speed, and exit velocity. A companion mobile app analyzes the information, offers coaching advice, and helps users track down lost balls.
Named to honor JHU's late football coach Jim Margraff '82 (KSAS), the company planned to spend the spring semester fine-tuning the data collected from its balls. Co-founder Patrick Kelly, a fourth-year majoring in electrical engineering, will also use FastForward U's makerspace to 3D print a wireless charger.
Kelly and Eberle are both graduating in May, but they plan on staying in Baltimore to see where Graff Golf takes them.
"The dream that we've all had is to run this full time," says Shapiro. "We're eager to see how this plays out."
First Friday's Group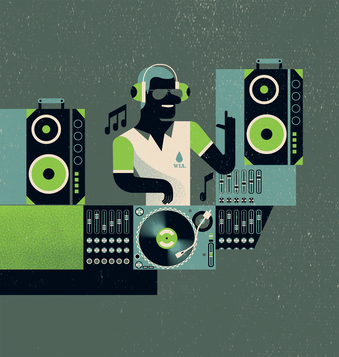 First Friday's Group is proving that not all Johns Hopkins ventures need to involve science or technology to be successful.
Before founding 1FG, junior Kristofer Madu was a recording artist with two hip-hop albums and dozens of singles and videos released under his stage name, Travis Karter. Despite his early success in the music industry, in the fall of 2018, Madu says he felt like "the weirdo on the sidelines" when it came to college parties.
"A lot of weekends, Friday night would roll around, and I would feel dread—not knowing what I would do that weekend," he remembers. He figured other students were in the same boat, so he set out to solve the problem with a business plan that combined his desire for community with his love of music.
First Friday's Group would organize monthly parties at venues around the city and give students the opportunity to perform. Amateur rappers and DJs could provide the entertainment, and anyone interested in learning how to DJ could get free lessons and perform at upcoming events. The parties would not only be for Johns Hopkins students but also for people at any college in the Baltimore area.
"One of our biggest goals was to burst the Hopkins bubble. When you look at universities, there is a bubble around them that disconnects them from the city," says Madu, who is double majoring in international studies and economics.
Last summer he took a paid internship in business development and invested the earnings to grow his startup, which hosted its first revenue-generating party in September. Since then, the events have ballooned to over 500 people. The large crowds have helped 1FG attract notable performers, like Houston-based rapper SavageRealm, who flew in for its Valentine's Day party at Charm Nightclub downtown.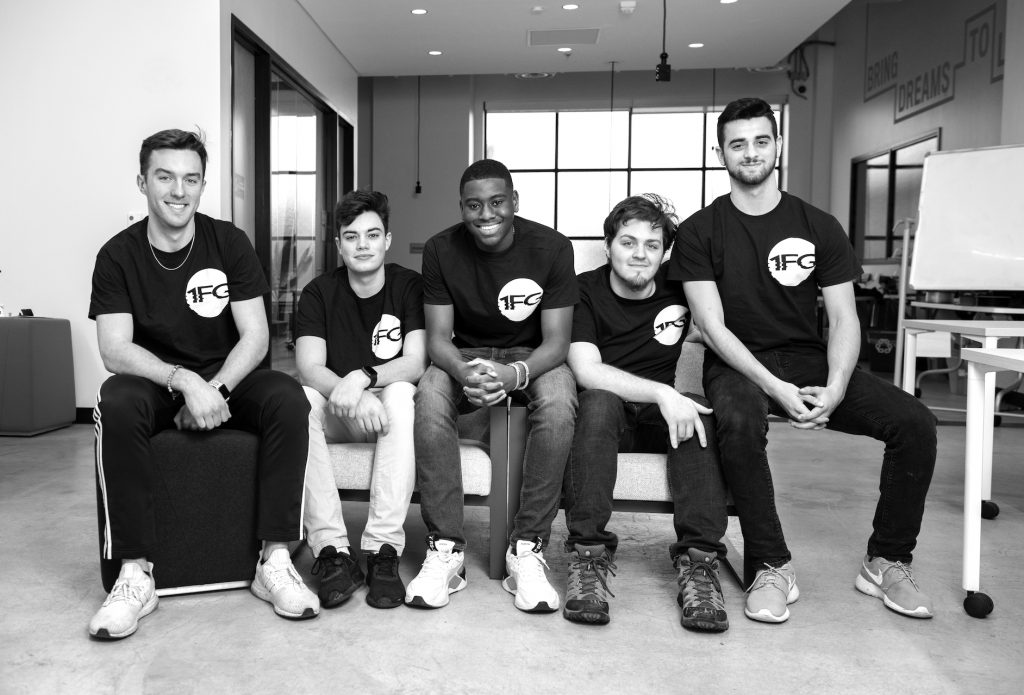 Christopher Domalewski, a senior majoring in chemical and biomolecular engineering, got an opportunity to DJ in front of a live crowd during a 1FG event and says the experience made him realize his value as a performer. "When I met Kris at a 1FG event, I had never DJed outside my bedroom," says Domalewski, who joined the team last year to help train other artists. "Now I'm a part-time DJ on the weekends, and it's a job for me."
The team is also training aspiring photographers and videographers. The budding creatives, who include both students and Baltimore residents, are invited to hone their skills by documenting the group's events using equipment provided by 1FG. Madu takes the extra step of connecting DJs and artists to paid opportunities in the community.
"I know what we're doing is having a huge impact for thousands of kids in the city," says Madu, whose company has trained over 100 artists and amassed more than 4,000 followers across its social media platforms. "We believe everyone deserves to explore their creative talents."
Madu attributes much of 1FG's success to the Fuel Accelerator, where he says he found the validation he needed to turn his passion into a real business. During the program, his team grew from five members to 20—including students from Goucher College and Loyola University Maryland—while their events quadrupled in size.
As an Accelerator assignment, 1FG had to apply to Red Bull Basement University's Global Workshop, which is part of a worldwide initiative for student entrepreneurs working to improve student life. The team was selected from over 1,000 applications to represent the U.S. at the finals in Toronto last December and ultimately made it into the top 10. While a startup from Austria won the grand prize, Madu says the experience provided valuable connections that are still paying off today.
"Fuel helped us unlock our ambition by putting us in an environment where we constantly had to work and have a product to show for it," says Madu.
In a world where it's risky to pursue a new business, FastForward U has become a safe place for students to explore their entrepreneurial side. While it may be unable to transform every startup into a success, it's giving students the optimism and confidence they need to pursue big ideas, and that's something to be excited about.