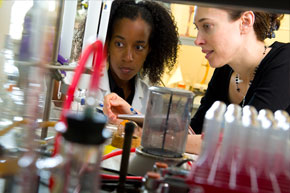 Johns Hopkins has teamed up with two historically black Baltimore institutions—Morgan State and Coppin State universities—to cultivate a diverse group of highly trained biomedical researchers, with $2.46 million in support from the National Institutes of Health.
The three universities are establishing Academic Success via Postdoctoral Independence in Research and Education, or ASPIRE, an intensive training program that bridges engineering, medicine, and biology for translational research that addresses challenges related to human health. The goal is to provide new professional development opportunities for postdoctoral scholars.
Participants will conduct research under the guidance of Johns Hopkins faculty mentors and develop academic skills through pedagogy workshops, course development opportunities, and teaching experiences under faculty members at Morgan State and Coppin State. The program will support two new postdoctoral scholars annually over the next five years, providing each trainee with a stipend and funds for research supplies, conference travel, and other educational expenses. The first fellowships were available in January.
During their three years in the ASPIRE program, scholars will spend 75 percent of their time conducting biomedical research and the remaining 25 percent learning about teaching and working in the classroom. Research projects will focus on diverse topics in biomedical engineering, applying quantitative methods and technical innovations to the diagnosis and treatment of disease for the advancement of human health. To promote interdisciplinary training, each scholar will have a primary research mentor from the Whiting School, as well as a clinical collaborator from the Johns Hopkins University School of Medicine.
ASPIRE scholars will be encouraged to mentor students from Morgan and Coppin on research projects within laboratories at Johns Hopkins, motivating new and diverse populations to pursue careers in science and engineering, says Leslie Tung, professor of biomedical engineering at Johns Hopkins and director of ASPIRE.