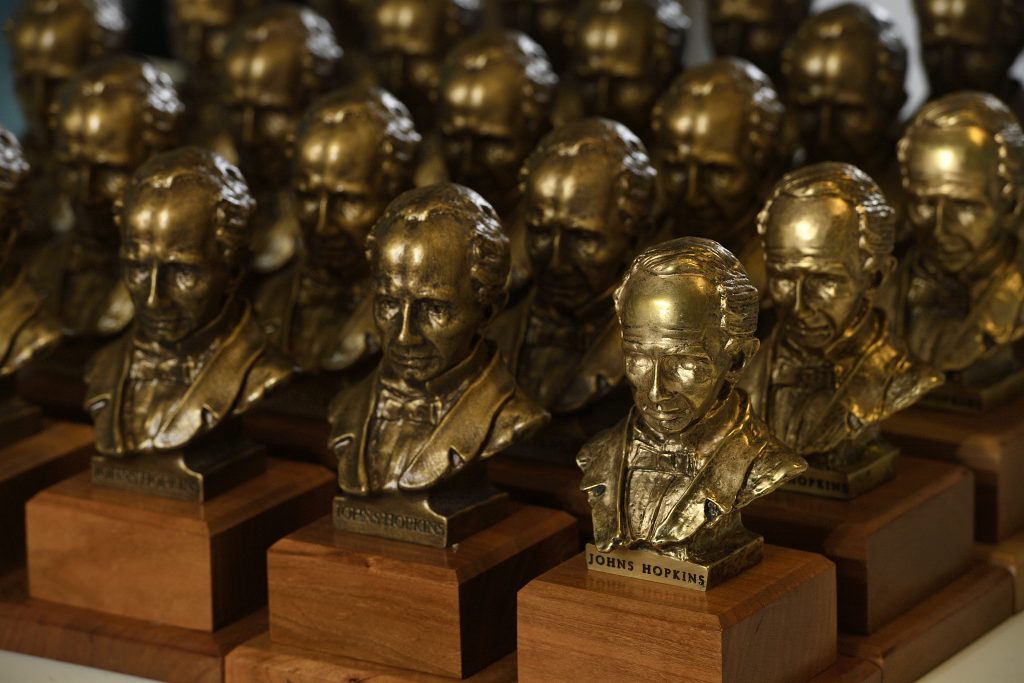 At the Carnegie Center for Surgical Innovation, a 3-D printer typically reserved for medical modeling has helped Johns Hopkins complete a two-year project to restore a special part of the university's heritage.
A small-scale bust of Mr. Johns Hopkins—the so-called Bronze Johns—has been awarded to distinguished alumni and friends of the institution for their outstanding service to the university since 1973. However, over the 45-year legacy of the Heritage Award, the statuette masters—the original sculptures that casting molds are made from—have deteriorated.
Now, thanks to a dedicated team, a new master bust has been created to restore the Heritage Award's Bronze Johns statuette to its former glory.
Maryland-based modeling and manufacturing firm Direct Dimensions scanned several busts of the university's founder, Mr. Johns Hopkins, and, through computer modeling, made necessary repairs. The physical master bust was created using the high-definition 3-D printer in the Carnegie Center, a collaborative effort between the departments of Biomedical Engineering and Neurosurgery.
The master was sent to Creative Castings on the Eastern Shore, where a mold was formed and statuettes were cold-cast in bronze. Even the statuette bases included a little piece of Johns Hopkins history. The first group of the new Bronze Johns busts have been mounted on bases made from wood from a cherry tree that grew where the Mattin Center now stands and from reclaimed wood salvaged from buildings across the Johns Hopkins campuses.
---
Web Extra