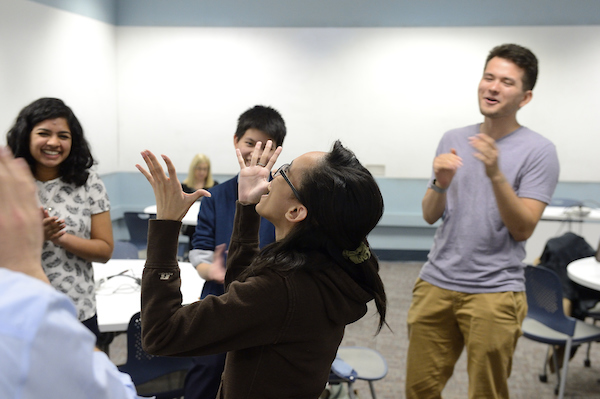 Since her freshman year, Megumi Chen '17, has crammed her schedule with engineering, math, and science classes. This semester, though, the applied mathematics and statistics major decided to add something unexpected: an improvisation class.
"I want to get better at responding spontaneously, and I heard that improv is great training for that," says the 21-year-old, who plans to pursue a career in finance after graduating in May.
Improv for Scientists and Engineers was offered through the Whiting School's Center for Leadership Education (CLE) for the first time this spring semester.
"It's a generalization, I know, but engineers tend to be more analytical and deliberate, as opposed to spontaneous, and many of us could benefit from practice in thinking on our feet," says Vice Dean for Graduate Education Ed Scheinerman, who conceived the idea for the class. "The bottom line is that so much of engineering work is collaborative, and the kind of communication skills that improv cultivates is invaluable."
Julie Reiser, KSAS MS '00, PhD '09, director of CLE's Professional Communications Program, recruited Michael Hartwell, education director at the Baltimore Improv Group, to teach the new class. (A second class, Improv for Leaders and Entrepreneurs, was taught by Tavish Forsyth, also of Baltimore Improv.)
"Few things prepare someone to deal confidently with unforeseen challenges the way improv does," says Hartwell, who has a knack for putting even the most nervous students at ease. "Through improv, students learn to master the subtleties of communication through voice, expression, and body language. Plus, it's just a lot of fun!"