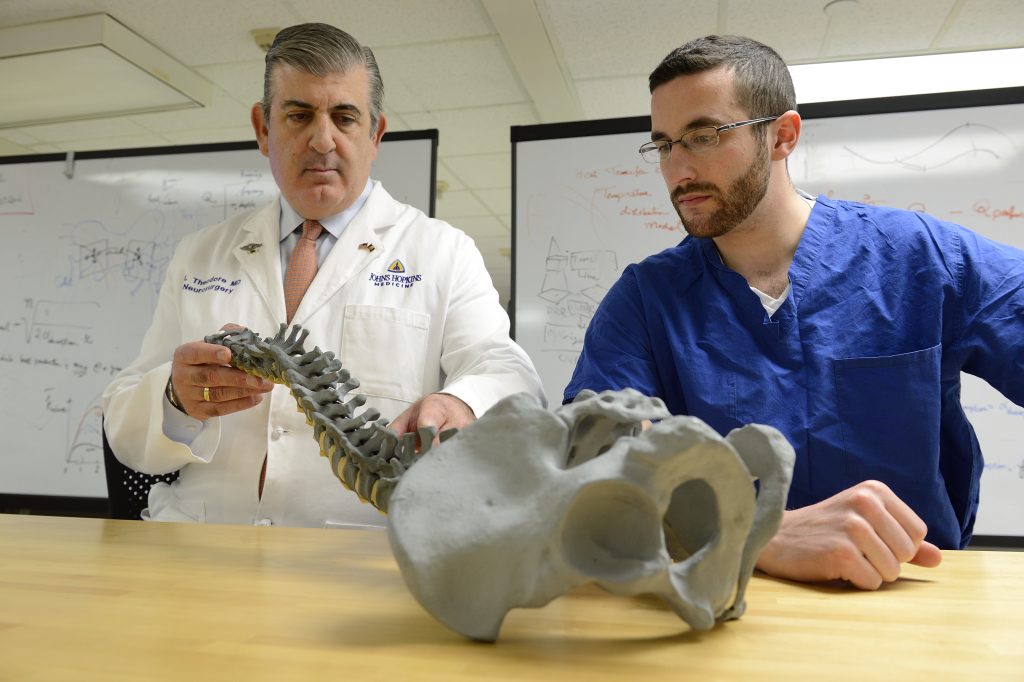 When Johns Hopkins medical student David Gullotti was growing up near Philadelphia, he spent a lot of time working with his hands—doing carpentry with his uncle, building homes with Habitat for Humanity, and helping his mother come up with innovative solutions to care for his father, who had multiple sclerosis.
"I've always been fascinated by the different techniques of how things are made," Gullotti says. "I have often asked myself and others, 'Why is something made this way? Could it be done differently?'"
In med school, as Gullotti went through clinical rotations and conducted research in the lab of neurosurgeon Henry Brem, he continually strived to better understand the reasons behind current approaches and ways in which the field could benefit from innovation.
Gullotti further pursued these questions this academic year when he became the first medical student to enroll in the Whiting School's Master of Science program in the Center for Bioengineering Innovation and Design (CBID), paving the way for a new option for future medical students. "Taking an additional year between the third and fourth year of medical school is becoming more common at Johns Hopkins and elsewhere," he explains.
In the yearlong CBID program, students get in-depth, hands-on experience in designing and developing innovative medical devices and preparing them to enter the market. Participants learn the fundamentals of identifying clinical needs, product design, intellectual property law, Food and Drug Administration regulations, and securing funding for project development.
All the while, student teams are developing two devices—one for the U.S. and one for the developing world—and are taking those devices through each step of the process. Gullotti is currently working on an endoscopy-related project for applications in India as well as a surgical tool to help with intraoperative assessments for both neurosurgery and orthopedic surgery.
Gullotti, who plans to pursue his residency in neurosurgery after medical school, says that his CBID experience will be invaluable for his future career.
"Having an in-depth perspective of technical feasibility and how to design something that is commercially viable will help me to have an impact on future patients—both inside the operating room and beyond—through health care innovations," he says.