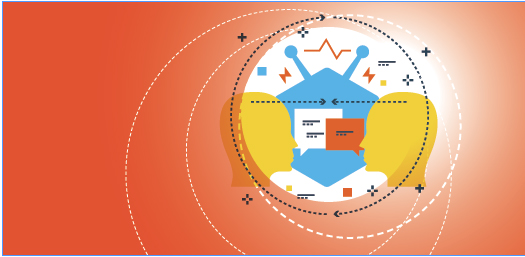 Amazon, which entered the field of voice communication between people and machines with Alexa, a virtual personal assistant that lives inside the company's Echo smart speaker, is funding future innovation at the Whiting School and three other universities with its Alexa Fund Fellowship program.
The Alexa Fund Fellowship will support a doctoral student in the Johns Hopkins Center for Language and Speech Processing who will mentor students in a master's degree program that focuses on human language technology, including speech recognition and text understanding. Amazon also has supported CLSP's Frederick Jelinek Memorial Summer Workshop in recent years.
Groups of two to four master's students will team up to devise and test novel algorithms for speech and natural language processing and speaker recognition, and the Alexa Fellow will offer guidance as these team projects evolve over two semesters. In addition to financial support for the doctoral student, Amazon will provide Alexa-enabled devices for use in appropriate master's team projects. The Alexa Fellow is expected to be in place this fall.
Ed Schlesinger, the Benjamin T. Rome Dean of the Whiting School, says, "Advancing our relationships with corporate leaders such as Amazon will assist us in our mission to continue to make positive impacts on society through our research, education, and translational activities."
A number of recent CLSP PhD students, including Sri Garimella, PhD '12, and Markus Dreyer, MS '07, PhD '10, have gone on to work for Amazon and other prominent technology firms.
They followed in the footsteps of earlier alumni innovators, including Ariya Rastrow, MS '08, PhD '12, who led the speech recognition efforts for Alexa, and Lambert Mathias, PhD '08, who oversaw Alexa's language understanding efforts. Both conducted their doctoral research at the CLSP under longtime language and speech expert Sanjeev Khudanpur, a Department of Electrical and Computer Engineering associate professor, and Bill Byrne, formerly of Johns Hopkins.
The other three universities chosen to participate in the Alexa Fund Fellowship program are Carnegie Mellon University, University of Southern California, and the University of Waterloo, in Ontario, Canada.