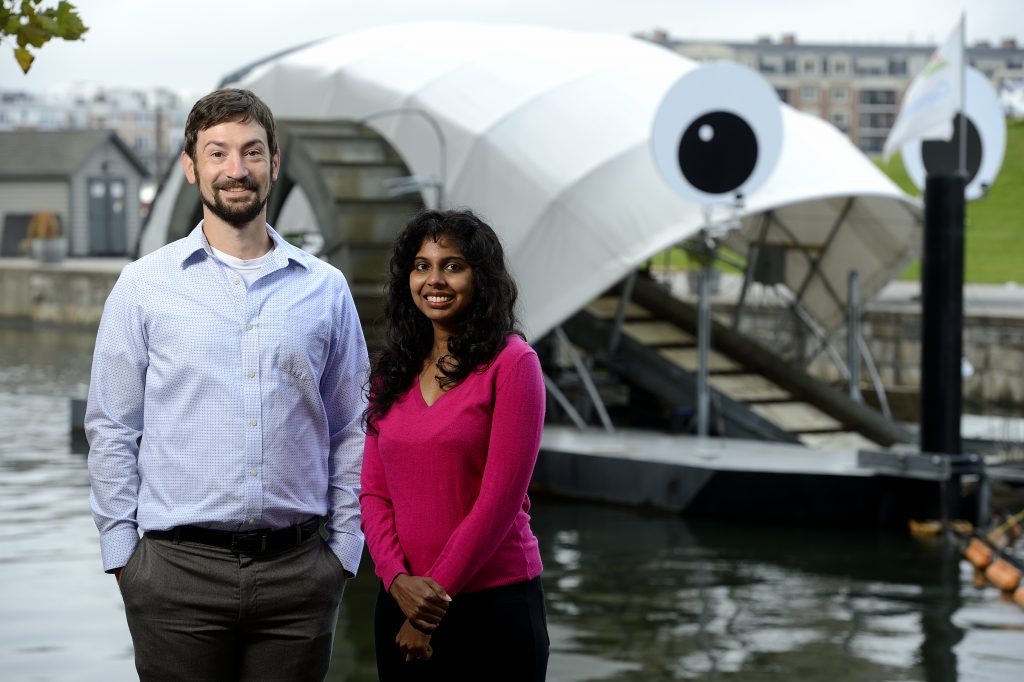 Two Johns Hopkins doctoral students decided to take on a persistent problem facing Baltimore after finding inspiration in an unlikely source: "Mr. Trash Wheel," an anthropomorphized Inner Harbor trash collector that catches litter and debris flowing down the Jones Falls.
Chris Kelley, a PhD candidate in environmental health and engineering at the Whiting School, and Ramya Ambikapathi, a PhD candidate studying human nutrition at the Bloomberg School of Public Health, had grown used to seeing litter on city streets. When they realized how much of the litter collected by Mr. Trash Wheel is food packaging—plastic soda bottles, Styrofoam containers, snack bags, and grocery bags are four of the five most commonly collected items— they decided to tackle litter as a public policy problem.
Their work caught the attention of the Abell Foundation, which recognized the pair with the 2016 Abell Award in Urban Policy. The award is given each year to area students for the most compelling paper analyzing a serious policy problem facing Baltimore City and proposing feasible solutions.
Using spatial analysis, surveys, personal observations, and interviews to pinpoint high-litter areas, the team found that the trash disproportionally comes from "hot spots" near carryout restaurants, convenience stores, bus stops, public middle and high schools, and food deserts (areas with limited access to grocery stores). And yet, the students note, the city does not position trash receptacles accordingly or schedule their emptying.
The duo, who married in 2016, followed its data mapping and analysis with policy suggestions. For one, they propose that the Department of Public Works conduct an inventory of public trash cans so that the city can review distances between existing cans with the intent of adding additional cans in trash hot spots.
Other recommendations include using cans with narrow-mouth lids, to reduce dumping; marking cans to help pedestrians report overflowing trash; and implementing the use of social media and hashtags to report litter problems.