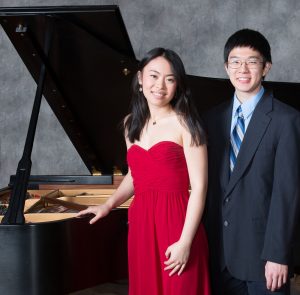 Two Whiting School students, both pianists, were among three winners of last spring's Hopkins Symphony Orchestra concerto competition.
Created by Johns Hopkins alumnus Hernan del Aguila, A&S '08, to encourage musicians who are not music majors to continue to study and perform, the competition afforded winners the chance to play with the Hopkins Symphony Orchestra during its season finale.
Stephanie Cai, a junior majoring in biomedical engineering who started playing the piano when she was 4, performed the first movement of Chopin's Piano Concerto No. 2. Winston Wu, a second-year PhD student in computer science with a passion for computational linguistics, performed movements three and four of Liszt's Piano Concerto No. 1.
"I have always loved the hard sciences, but I also love being creative through music," says Cai, who grew up in Portland, Oregon, and studied at the Juilliard School's Pre-College Division while she was in high school. "They seem to use completely different parts of me that really blend well together."
Wu, a graduate of the University of Texas at Austin who double majored in computer science and Latin with a minor in piano, says music is his relaxation. "When I'm stressed, I sit down to play and just let everything go."
Despite incredibly impressive musical credentials—both have won numerous competitions and studied with some of the finest teachers in the country—they insist music is an avocation.
"Playing the piano is my hobby; computer science is my career," says Wu, who is working on getting computers to understand and translate languages.
And Cai is working this year with a team of four other undergraduates on a device to improve corneal surgery outcomes, an idea they hope to present this spring at the Department of Biomedical Engineering's Center for Bioengineering Innovation and Design's Design Day.
"We're all really excited about the chance to create something that might really make a difference," she says. But she also looks forward to decompressing at the end of the day in one of the Mattin Center's practice rooms. "These two parts of me complement one another in a most satisfying way."