Modern rail systems handle everything from transporting large amounts of goods across state lines to getting you to the office on time.
For the most part, railways and metro networks run smoothly, but every so often, there's an incident—a crash, a spill, or a potential bomb threat—that requires transit workers to quickly assess the scene and, ultimately, keep things moving.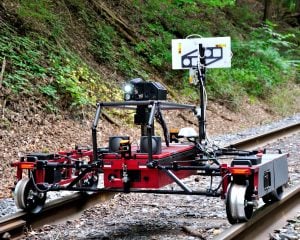 Inspecting these incidents on the railways can involve putting first responders in harm's way and can take hours or even days. That's why the Transportation Security Administration tasked the Johns Hopkins University Applied Physics Laboratory with coming up with a better solution.
On the team assigned to the project was Michael Noll, MS '07, a member of APL's senior professional staff. Over two years, he and the team worked to develop and test a prototype for a new, unmanned system nicknamed IRiS (Instrumented Rail Inspection System). It can be deployed within minutes and can assess a crash site or chemical spill remotely, greatly reducing the risk for human injury.
Equipped with cameras and video equipment, IRiS can ride the rails, get up close, gather data, and then send that information back to the first responders who are controlling the vehicle from a portable pad or base station.
"There's not a system like this that can be remotely driven into a tunnel," says Noll, who served as the communications engineer on the project.
APL is currently working with Harsco Corp. to get IRiS up and running. Once operational, IRiS should greatly improve the safety of first responders and transit workers.